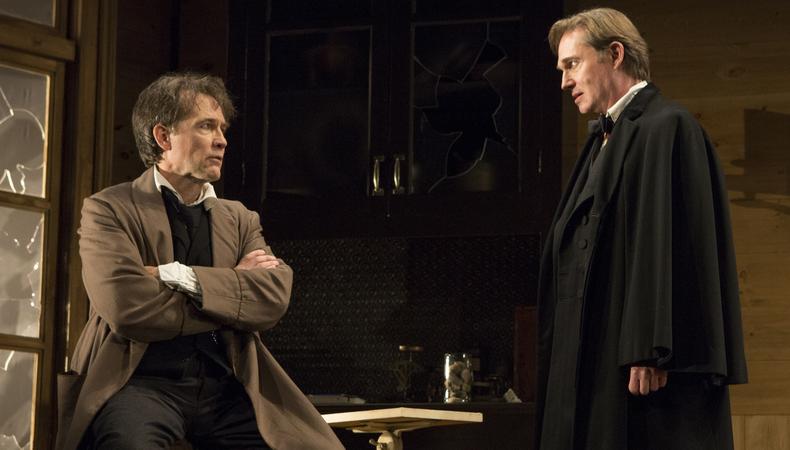 Rebecca Lenkiewicz has transformed Henrik Ibsen's 1882 play "An Enemy of the People," an insightful work about the cost of free expression, into a coherent, topical, and thrilling piece that pokes and prods at our own moral fiber. Expertly realized by director Doug Hughes, the production succeeds on merit instead of flashiness or celebrity—with an outstanding cast of theater veterans led by Richard Thomas and Boyd Gaines—and causes us to question just how far we are willing to go to stand up for our beliefs.
The play follows Dr. Thomas Stockmann, the medical officer of a coastal Norwegian hamlet, who discovers that the town spas are threatening the health of its citizens. Thomas plans to publicize his findings in the local paper, and in his mind he will be a hero, saving the citizens from deadly disease. But when Peter Stockmann, the mayor and Thomas's brother, comes out against the decree—since gutting the baths would sink the town's trade business and threaten its people with destitution—allegiances quickly change. "Everyone is terrified of the truth," Dr. Stockmann's daughter Petra says at the top of the play. As his friends start turning against him, Dr. Stockmann must decide whether standing up for his beliefs is worth risking his reputation and his family's well-being.
Boyd Gaines is at his finest as Dr. Stockmann, and he disappears so far behind the cloak of his character that when an audience member sneezed at the performance I attended, during a climactic town meeting scene, Gaines ad-libbed "Bless you" and continued right along with his speech. He and Thomas (as Peter Stockmann) possess an uncanny chemistry onstage, and Thomas gives the mayor a certain mystery; his movements and subtle choices feel intimate enough for the screen yet resonate in the theater. As Dr. Stockmann's wife Catherine, Kathleen McNenny possesses an acute self-awareness, and as Petra, newcomer Maite Alina holds her own with the greats in the cast.
What makes this production so wonderful is Lenkiewicz's new translation of the script, which premiered at the Arcola Theatre in London in 2008 and gives Ibsen's 19th-century work the feel of a contemporary play. The characters' dialogue is deceptively simple yet incisively smart, and Lenkiewicz paces the work at a steady simmer that slowly rises to a boil. Hughes has a fresh and honest vision for the piece, brought to life by John Lee Beatty's smooth, rotating set, Ben Stanton's eerie lighting, David Van Tieghem's foreboding original music and sound design, and Catherine Zuber's attractive costumes.
In an age when political Facebook posts are de rigueur and grassroots movements like Occupy Wall Street have sprung up across the country, "An Enemy of the People" challenges its audience to consider the benefits—and the ramifications—of their outcries. It's a shame the show is set to close five days after this year's presidential election. There's bound to be plenty more to talk about.
Presented by Manhattan Theatre Club at the Samuel J. Friedman Theatre, 261 W. 47th St., NYC. Sept. 27-Nov. 18. (212) 239-6200 or www.telecharge.com. Casting by Nancy Piccione.
Critic's Score: A+