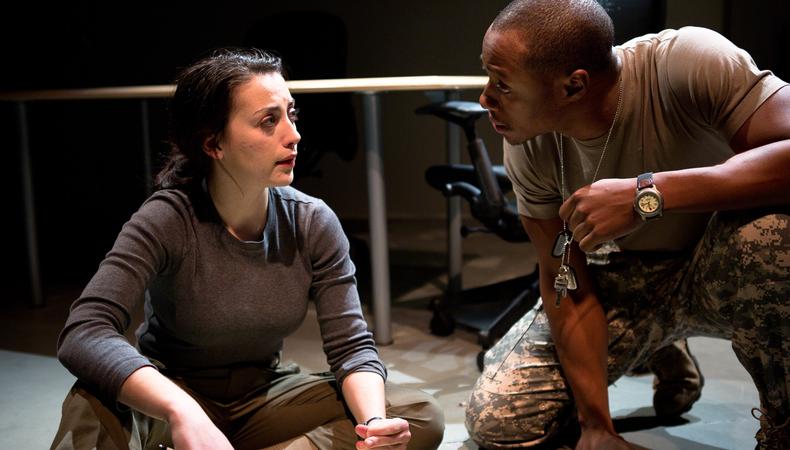 Frank Winters, a new and zealous playwright, is possibly too talented for his own good. For the world premiere of "On the Head of a Pin," he is both author and director; what he really needs is an objective and rigorous editor. At three hours, this ambitious story combining dark deeds in Iraq and freedom of the American press is protracted and unwieldy. It's a pity, as Winters clearly has a gift for characterization and an ear for convincing dialogue, with both these virtues delivered by a cast of fresh and interesting faces who never utter a false note. At times it's as if the playwright has become too fond of his characters to rein them in or shut them up.
And effective characters they are, with a compelling tale to tell. In 2004, Sarah Kennedy (Emily Fleischer) believes that she has been hired as a translator for a corporate military prison in Iraq by Caliban Enterprises executive Chris Conrad (Jason Ralph). Once there, however, she learns from her boss, Kathleen Crane (Jen Tullock), that instead she will be an interrogator gaining information from prisoners by any means necessary. As Sarah unravels and we learn the real reason for her being in Iraq, her only confidant is hardened soldier Russell Clark (Marcus Callender). Three years later, disgraced but intrepid journalist Lily Strauss (Sofia Lauwers) begins to uncover Sarah's story, with the reluctant permission of newspaper boss Jon Lowe (James Ortiz) and the help of wounded-in-Iraq reporter Henry Sullivan (Will Gallacher) and intern Gwen Post (Devin Dunne Cannon). Lily and company must cut through of the web of corporate and government lies to uncover the truth of Sarah's story.
Winters dramatizes the two tales simultaneously, with the play weaving together past and present in alternating scenes. This results in some awkward transitions as Winters guardedly doles out information on Sarah and Lily. While the exposing of Halliburton-like practices at Caliban (yes, it rhymes with Taliban) is hardly new, it still proves engrossing, and Lily's fight for journalistic freedom is always topical.
It speaks well of Winters as director that each member of the cast of nine shines. Fleischer is a tremulous and touching Sarah, while Lauwers is a sharp and bold Lily, driving the play along. Especially memorable are Tullock's authentic realist, Cannon's youthfully emotive intern, Gallacher's wounded-in-every-way journalist, and Ralph's jovial, slippery executive.
Someone should give the talented Winters a large blue pencil, for in this stuffed cocoon of a play is a bright and colorful butterfly ready to emerge.
Presented by Strangemen & Co at 59E59 Theaters, 59 E. 59th St., NYC. Feb. 24–March 10. (212) 279-4200, www.ticketcentral.com, or www.59e59.org.
Critic's Score: B