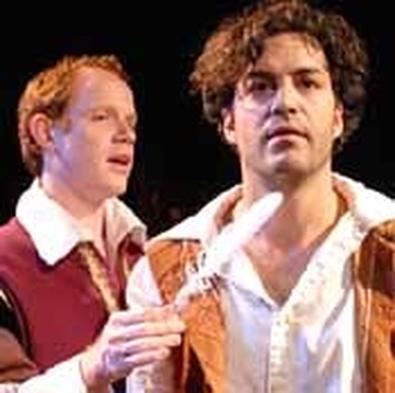 It's 1593 and the plague in London has closed all the theatres. Twenty-nine-year-old Will Shakespeare is a fledgling playwright, with only half a dozen stage works, including the three Henry VI plays and Titus Andronicus, behind him. As a promising poet, he is virtually quarantined at the Mermaid Tavern, busily quilling sonnets for his new patron, the young Earl of Southampton. Will's frequent visitors include his foppish lordship, who doubles as Will's muse; the reigning writer of the day, Christopher "Kit" Marlowe, also 29; and Emilia Lanier, England's first published female poet and the reputed dark lady of the sonnets.
With just these four characters and one small set, Robert Brustein has fashioned a lively and literate long one-act piece that sticks pretty closely to the known facts and literary output of these lives. It also deftly examines the process of creative writing — especially when it comes to appropriating subjects and their expression from others. As Marlowe puts it, "Poor poets borrow; greater poets steal." Other characters' lines in this play often give Shakespeare an idea for a verse, a poem, sometimes even a whole play. Playwright Brustein also entertainingly speculates on the active, often ambivalent sex lives of his characters. With great gusto and affection, Daniela Varon has directed the production, which sports all the first-rate elements it deserves.
The quartet of actors could hardly be better. Stafford Clark-Price shows us another side of Shakespeare, conflicted in calling his patron-muse "my love" but reluctant to touch him. Sean Dugan is deliciously menacing yet generous to posterity as the about-to-be-murdered Marlowe, Brian Robert Burns as Southampton is personally sweet but steely in his Catholic rebellion against his Protestant queen, and Lori Gardner as Emilia literally strikes blows for early feminism. Laura Crow's colorful Elizabethan period costumes, Scott Killian's original compositions and sound design, and the evocative set and lighting by Mike Billings all contribute mightily to the glow of the proceedings.
Over the years there has been no shortage of plays, books, and other works about Shakespeare, but nothing quite like this. Here you'll find no guessing about who existed or wrote what; this Shakespeare and his contemporaries are flesh-and-blood real, and I defy you to doubt it.
Presented by and at Abingdon Theatre Company, 312 W. 36th St., NYC. Sept. 21-Oct.5. Tue.-Thu., 7 p.m.; Fri. and Sat, 8 p.m.; Sat. and Sun., 2 p.m. (212) 868-4444 or www.smarttix.com. Casting by William Schill.