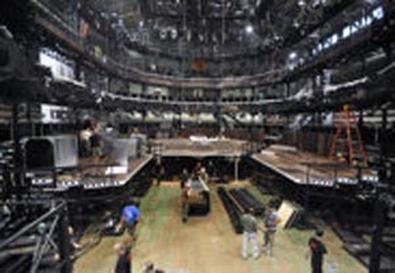 NEW YORK (AP) — The Royal Shakespeare Company has to be considered a very gracious houseguest. Not only has this English troupe arrived in New York to show off five of its productions with its own actors and costumes, it has also brought its own theater.
The acclaimed company has built and shipped a replica of its home stage in Stratford-upon-Avon and is assembling it inside a 55,000-square-foot hall within an armory on Park Avenue.
"Where else in New York City can you see a theater actually built within another building? It's amazing," said Rebecca Robertson, president and executive producer of the Park Avenue Armory, which is co-producing along with the Lincoln Center Festival in association with Ohio State University.
The company's 41 actors and 21 musicians will perform five William Shakespeare works — "As You Like It," ''Julius Caesar," ''King Lear," ''Romeo and Juliet" and "The Winter's Tale" — in repertory for 44 performances from July 6 to Aug. 14.
The traveling 975-seat, steel-framed replica of an Elizabethan-era three-level theater includes a stage that extends into the audience on three sides. The theater is incredibly intimate, with the furthest seat from the edge of the stage only 49 feet away.
"Even the person in the least expensive seat will be very, very close to the action in a way that I think is going to be very special," said Nigel Redden, director of the Lincoln Center Festival. "You will really be able to focus on what the actors are doing."
A tour Friday of the massive undertaking revealed a buzzing construction site in which dozens of people rush to complete the three-week job. The unfinished stage still had directions scrawled across it for dozens of Shakespeare characters — some read "Out for Romeo" and "Out for Lear" — and on one pole was a sign, written in block letters on a sheet of paper torn from a notebook: "Don't Forget to Put Brackets for Bookcases on Underside of Band Platform."
The RSC built the moveable theater and stage in its workshops and packed it up in 34 different 40-foot shipping containers — along with over 400 costumes, 15 beards, 350 pairs of boots and shoes, several cans of the Asian fruit lychee to stand in for eyeballs, and 40 liters of fake blood — for the trip to New York.
Alan Bartlett, the head of construction and technical design, said that overall the company shipped some 400 tons of material across the Atlantic, but the total cost was just $1 million since most of the workers who built the theater were already being paid by the company.
Michael Boyd, artistic director of the company, said the small theater, which curves around the stage, gives the audience an awareness of itself. He hopes ticket-buyers will wave to each other and the actors as they sit down.
"Hamlet talks about holding a mirror up to nature. This theater does that. Humanity can see itself engaged in a quite humble activity — sharing in the same stories about love, about mortality, in the same space, breathing the same air, in real time, growing older together in the same space. That's what I love about this theater," he said.
Rows of dressing rooms, nestled along a side of the armory's main hall, are hardly the place in which a diva would be happy. Each is designed for two people and has two plain desks, two metal chairs and two mirrors. A simple red curtain keeps them private. Boyd said visitors have remarked that they look like something from Amsterdam's red-light district, and so he has cheekily dubbed the section "New Amsterdam."
The RSC home base is Stratford-upon-Avon, the Bard's birthplace, but the troupe also performs regularly in London and tours extensively around the world. It has two theaters in Stratford — the main arena that inspired the traveling version and has about 100 more seats, and the smaller Swan Theatre.
The Armory, built between 1877 and 1881, fills an entire city block on New York's Upper East Side. Its main column-free drill hall is one of the largest unobstructed spaces of its kind in New York. Lately, the staff has invited unconventional works that could not otherwise be mounted in traditional performance halls and museums.
Boyd said he and the company considered going to a conventional theater before building and hauling their replica theater all the way to New York. But he said he and his workers thought they could do it — and it means future tours with the moveable theater may make it worth all the cost and effort.
"It's ludicrously ambitious. It enables the possibility of doing it again much more easily and more cheaply. And, I think, it means the audience will have a better time," said Boyd. "It gives New York an unusual way for artists to communicate with the audience."
---
Copyright 2011 Associated Press. All rights reserved. This material may not be published, broadcast, rewritten, or redistributed.