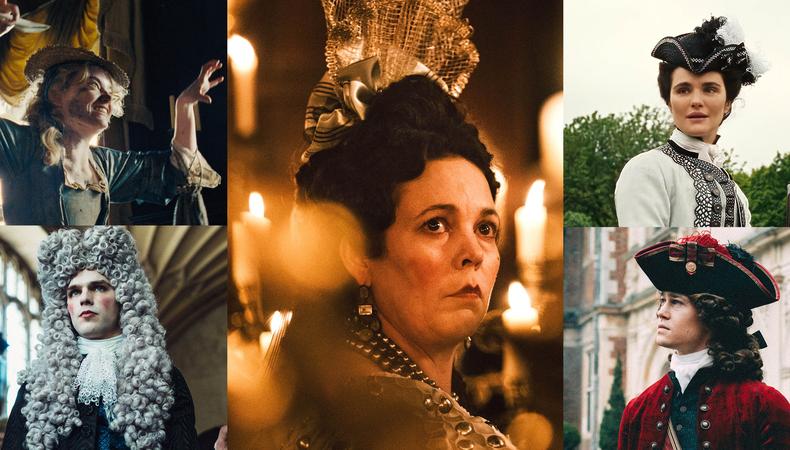 The following content has been sponsored by Fox Searchlight Pictures.
The time is the early 18th century. The setting is the royal palace of Anne, queen of England. Yet to modern audiences' eyes, the characters at the center of Fox Searchlight Pictures' historical satire "The Favourite" feel intimately recognizable. Its ensemble cast is committed to absurd, impulsive, and extraordinarily physical performances, and we can't help but believe that their every outrageous move comes from a place of human understanding.
Director Yorgos Lanthimos leads a stellar cast of acting talents, including the 2018 Venice International Film Festival's Volpi Cup for Best Actress winner Olivia Colman as the notoriously feeble Queen Anne, suffering from gout and occupying the throne in name only thanks to her steadfast friend Lady Sarah Churchill, played by Oscar winner Rachel Weisz. As England wars with France, Nicholas Hoult's Tory opposition leader Robert Harley and Joe Alwyn's equally power-hungry Samuel Masham seize the chance to push their political agenda past Sarah's steely defenses upon the arrival of her formerly aristocratic cousin Abigail, played by Oscar winner Emma Stone. Abigail's subsequent endearment to the Queen and displacement of Sarah as confidante constitute the very definition of what historians refer to as "palace intrigue."
"When you make a film set in another time, it is always interesting to see how it relates to our time," says Lanthimos, an Oscar nominee for his imaginatively surreal hit "The Lobster." "You realize how few things have changed apart from the costumes and the fact that we have electricity or internet. There are so many ongoing similarities in human behavior, societies, and power."
This complex trio of women, warring among each other for affection and attention largely outside the influence of men, make watching "The Favourite" an experience like no other. Intelligent, flawed, humorous, tragic, and poignant all at once, these three female characters struggling for power tell a refreshing and resonant story rarely seen onscreen. Colman, Weisz, and Stone wear lavish costumes from Oscar-winning designer Sandy Powell, with Alwyn and Hoult in equally flamboyant finery and makeup, and the eye-popping palace halls remind us we're watching a period piece, yet the actors' shocking behavior almost transcends the time period. It's like Lanthimos and his cast have built an entirely distinct alternate universe, in which queens scarf cake and vomit it back up, and men and women alike engage in all kinds of physical and emotional violence, and still, every moment feels true to the characters.
Distinct to Lanthimos' creative process, too, was his three weeks of rehearsals, which included game-like exercises such as tying oneself into knots or walking backwards while reciting lines. The director's tendency to follow his own gut for artistic inspiration was ingrained, by any wacky means necessary, into Colman, Weisz, Stone, Alwyn, Hoult, and the supporting cast. Alwyn has said the rehearsals were about "making complete fools of ourselves everyday in front of each other.... It was a lot of strange exercises and games and switching parts and rolling around on the floor and dancing."
"It enabled them to not take themselves too seriously, to learn the text in a physical way by doing completely irrelevant things to what the scene is about," Lanthimos says. That physical playfulness shines through in the antics of the entire ensemble, from a scene involving the pelting of blood oranges at a naked man, to the moment Queen Anne throws a temper tantrum on the floor after threatening suicide. All the actors embraced absurdity and irreverence to the point of unconscious instinct; Weisz has described the sensation of watching her own performance as Sarah with surprise, like she barely remembers what happened while in character.
As working actors can attest, getting in your own head and overthinking a line or moment can hamper a great performance. The cast of "The Favourite," thanks to Lanthimos' unorthodox preparation techniques, suffers from no such headiness. Instead, there's spontaneity, fearlessness, a visceral absurdity that nevertheless feels deeply human. Everything seems to come from the gut—where honest acting should originate. And they're united in their energy, creating a cohesion that exemplifies superb ensemble acting.
Featuring a script from Deborah Davis and Tony McNamara and unforgettable performances from Colman, Weisz, Stone, Alwyn, and Hoult, "The Favourite" was named one of American Film Institute's movies of the year, won the Grand Jury Prize at its Venice premiere and a special honor for Ensemble Performance at this year's Gotham Independent Film Awards, and earned a record-breaking sweep of 10 British Independent Film Awards, including Best Film of the Year. For more information and to find a screening near you, visit Fox Searchlight's official site. Check out a special sneak peek below.