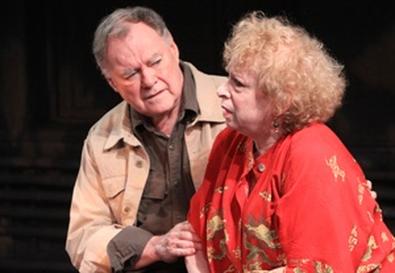 "Where the Children Are," the final work in Series A of the
Ensemble Studio Theatre
's Marathon 2010, its annual festival of one-act plays, has enough emotional power to fill an entire evening and makes up for the lackluster quartet that precedes it. More a series of thematically related monologues than a play, Amy Fox's piece presents five parents telling heart-rending stories about their offspring fighting overseas. The most powerful is Care Package Mom, who first carefully packs goodies in a cardboard box for her son and then has to unpack his meager belongings after he's killed. At the end of the play, she and the other parents shoot Silly String over a wire stretched across the stage to illustrate how soldiers use mundane artifacts to stay alive (the Silly String reveals difficult-to-see tripwires). This final section seems tacked on but nevertheless provides a strong reminder that wars are soaked in the blood of young people just a few years beyond childhood. Melanie Nicholls-King is superb as Care Package Mom, and director Abigail Zealey Bess activates Fox's talking heads by giving them mundane tasks to perform as they speak.
"Turnabout," written by Daniel Reitz and directed by Moritz von Stuelpnagel, has several juicy, thought-provoking moments but feels incomplete, as if it were the first two scenes of a longer work. Josh is forced by a former lover, from whom he's borrowing $15,000, to wait tables at a gay Republican fundraiser wearing only a G-string and an elephant's head over his groin. Reitz makes us believe that Josh, a potentially complex character, is on a voyage of self-discovery, but at the end of the play neither he nor we have gotten beyond platitudes.
Adam Kraar's "Wild Terrain" presents Henry and Marion, an elderly couple facing their fear of death during a visit to an outdoor sculpture exhibit. Though the play doesn't go very deep, Kraar and his talented cast make us feel the lonely terror of vanishing into the fog of age.
In "Safe" by Ben Rosenthal, Kearn struggles to relate to Wally, the adolescent son of his recently deceased wife. The two battle verbally and physically but cannot escape their mutual need as emotional anchors. Beyond that, the play offers little in the way of insight or originality.
Dorothy, the titular spouse in Robert Askins' "Matthew and the Pastor's Wife," resorts to a grotesque and bloody remedy to cure Matthew, a serial adulterer. Dorothy's confusing motivations and actions are more off-putting than the play's blood and sex, which are sure-fire but easy methods of gaining and holding attention.
The Marathon's technical crew faces the daunting task of differentiating five plays and making the transitions between them swift and efficient. Maiko Chii (sets), Leslie Bernstein (costumes), Julie Duro (lights), Shane Rettig (sound), and stage manager Danielle Buccino meet the challenge nimbly and admirably.
While longer one-acts are regularly produced on and off Broadway, the 20-minute form has fewer outlets. Thankfully, the Ensemble Studio Theatre has managed to provide a prominent venue for them for 32 years. If Series A of this year's edition is uneven, there's always Series B to look forward to. I certainly do.
Presented by and at Ensemble Studio Theatre, 549 W. 52nd St., NYC. May 24-June 19. Schedule varies. (866) 811-4111 or www.ovationtix.com. Casting by Tom Rowan.