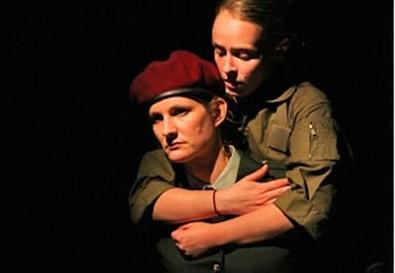 The exhilarating combination of David Auburn's playwriting and David Rasche's acting makes "Amateurs," one of the entries in Series B of this year's Ensemble Studio Theatre marathon of one-act plays, an absolute must-see for all who enjoy muscular, confident, and fearless theater. Rasche delivers a tour de force performance as M, a charming yet lethal political adviser who grapples with the attempts of W, the daughter of a man whose career he destroyed, to ruin him. To see M conceive then discard strategy after strategy is both exciting and horrifying, because part of us wants to see him succeed even though we know we shouldn't. That Auburn doesn't "balance" this fight, or give it a pat conclusion, demonstrates his courage as a writer, just as his creation of an irresistible monster like M reminds us of his immense talent. As in the best theater, Rasche and Diana Ruppe, who plays M, look to be having great fun. Thanks to them, Auburn, and director Harris Yulin's skillful direction, we do too.
While the other four plays don't hit the mark set by "Amateurs," each has at least one element that will repay a theatergoer's investment. For example, Laura Maria Censabella's "Interviewing Miss Davis" gives us Delphi Harrington's marvelous portrayal of an aged but still fierce Bette Davis. The story concerns the attempt by Davis' exhausted personal assistant, Jackie, to hire Eliza, a woman desperate to escape a dead-end life, as her replacement. But the life of the play springs from the conflict between Davis' ferociously independent life force and her recognition that she cannot live without care and companionship. Though the play is long and somewhat repetitive, Harrington and director Kel Haney keep the battles fun and the pace furious.
"Airborne," by Laura Jacqmin, is less a play than a sketch, but even so it is mysterious and visually arresting. At first it seems to be the recounting of a young soldier's thoughts as she falls to earth when her parachute fails, but then we realize we're experiencing the haunted thoughts of her commanding officer. Director Dan Bonnell and stunt choreographer Maggie MacDonald make exquisite use of a long white sheet and three silent soldiers to dramatize the terror of falling and the burden of guilt.
Rachel Bonds' "Anniversary" consists of several short scenes detailing the progress of Penelope, a young woman whose lover dies tragically young, from deadening grief to revivifying love. The play treads familiar ground, but grounded and glowing performances by Julie Fitzpatrick as Penelope and Jerry Richardson as Penelope's new love allow it to transcend its TV-movie plot.
"They Float Up," Jacquelyn Reingold's depiction of an encounter between Joan, a would-be topless dancer, and Darnell, a justifiably tormented New Orleans native, seems to me less a play than an opportunity to remind us of the horrors of Hurricane Katrina and our collective failure to repair or even fully recognize the human and structural damage it wrought. Luckily, Kellie Overbey is on hand as Joan to add warmth, humor, and grace to the proceedings.
With artistry and simplicity, the series' designers, led by Greg MacPherson's lighting, create unique environments for each of the evening's plays, and production stage manager Danielle Buccino marshals her crew to switch between them with welcome speed.
Producing a theater festival is an exercise in courage and faith. As there's no way to control artistic creation, there's no way to insure that each slot will be filled by a first-rate piece. It is a testament to the vitality of American playwriting that so many of the plays in Marathon 2010 justify EST's continued devotion to the nurturing and presentation of the one-act play.
Presented by the Ensemble Studio Theatre in association with Judith L. Chiara Charitable Fund, Ellen and John Clarkson, Eleanor Naylor Dana Trust, John Golden Trust Fund, Grey NYC, and Jerome Robbins Foundation at the Ensemble Studio Theatre, 549 W. 52nd St., NYC. June 10–26. Schedule varies. (212) 352-3101, (866) 811-4111, www.theatermania.com, or www.ensemblestudiotheatre.org.