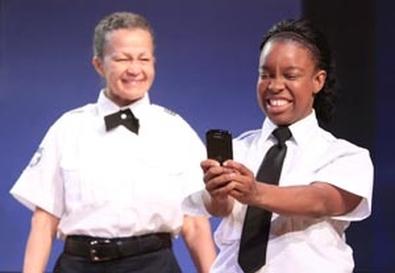 Series B of Ensemble Studio Theatre's 33rd annual Marathon of One-Act Plays, containing five plays that range from metaphysical drama to boulevard comedy, is an improvement over Series A. Though uneven in tone and accomplishment, the works commendably serve as showcases for actors and directors.
Let's start with the most provocative play, which is also the only one with a proven pedigree. Tony winner (for "Spring Awakening") Steven Sater's poetic "Mrs. Jones and the Man From Dixieland" centers on an African-American woman who sits rocking her infant. Blind, suspicious Mrs. Jones is visited by the mysterious Jimmy, who comes bearing gifts from the unseen Mr. Sweeney. The latter is perhaps a variation on Beckett's never-seen Godot and may also be a slave overseer. The first offering is a blue carpet, sent by Mr. Sweeney "to help make things better." Mrs. Jones finds it "hard to let the world back in," but in the end she's forced to do so. It's a stirring work with moments of beauty, such as a song the characters sing that's written by Sater and his "Spring Awakening" partner, Duncan Sheik. As directed by José Zayas, Uzo Aduba is fierce as Mrs. Jones, with Stanton Nash empathetic yet quietly commanding as Jimmy.
The evening begins with David Zellnik's "For Elise," which takes place outside a synagogue during the party after a Hasidic wedding. The groom's grandmother (Delphi Harrington) and his gay cousin (Erik Liberman) feel isolated from the Orthodox, Old World goings-on inside. It's a situation that the groom, Josh (Drew Hirshfield), tries to gloss over. Though "For Elise" doesn't go beyond its basic premise, it successfully suggests the plight of those removed from the so-called mainstream. Pamela Berlin directs.
In Michael Louis Wells' "Two From the Line," two 20-somethings watch a TV basketball game. Anxious Ed confesses to handsome Al that he fantasizes having sex with him, resulting in rejection and an eventual physical fight. What Ed really wishes is to relive his youth. "I miss…I really miss…," he says, not finishing the thought. Lord knows, this country is filled with arrested adolescents, so the idea is not without validity. But here it's an underdeveloped theme, though director R.J. Tolan and actors Curran Connor and Eddie Boroevich keep things jumping.
Richer characterizations mark Cassandra Medley's "Cell." Three related women—two sisters and the daughter of the younger one—circle about each other. All work at an immigrant project. When the eager daughter lets down her tough front at work by expressing tenderness for one of the immigrants' infants, resentments and accusations emerge. Although it stays on the surface of family dynamics, "Cell" glances at the little tyrannies by which we attempt to control one another. Jamie Richards directs a dedicated threesome: Lizan Mitchell, MaConnia Chesser, and Shyko Amos.
Finally, there's Jacquelyn Reingold's "I Know," an amusing trifle about an unmarried older couple who, after decades, wonder if it's time to hang it up. Actors by profession, they're adept at dramatizing disagreements. "We're brilliant with passion," he says. When she accuses him of having had an affair with a woman now dead 20 years, he labels that as "retroactive adultery." Although more flamboyance would be welcome, under Dan Bonnell's direction Beth Dixon and Jack Davidson have fun as the odd couple whose lives, like those in the other plays, reach unexpected crossroads.
Presented by the Ensemble Studio Theatre, in association with Ellen and John Clarkson, Eleanor Naylor Dana Trust, Grey NYC, the Dorothy Strelsin Foundation, Bob and Jill Jaffe, CUNY TV, and Ann Sachs and Roger Morgan, at the Ensemble Studio Theatre, 549 W. 52nd St., NYC. June 9–25. Schedule varies. (212) 352-3101, (866) 811-4111, www.theatermania.com, or www.ensemblestudiotheatre.org. Casting by Tom Rowan.