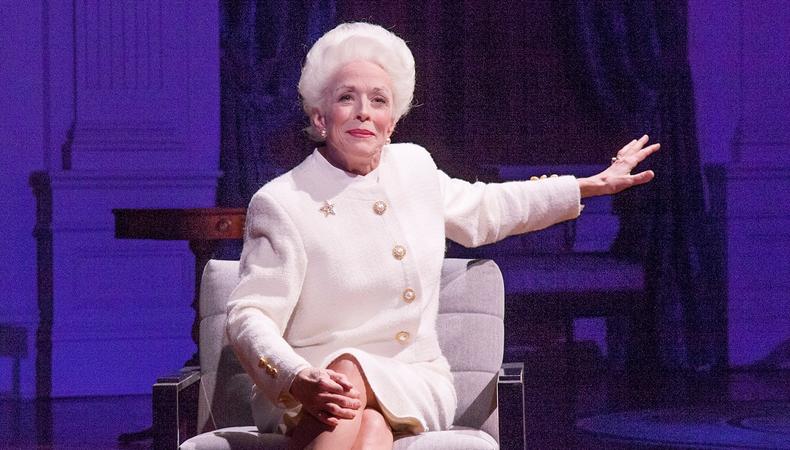 The estimable Holland Taylor has not simply found the role of her career in former Texas governor Ann Richards; she's written it as well, after doing impressively extensive research. If the actor somewhat outshines the scribe, it's not a major problem. Taylor's witty, sharp-eyed script is sufficiently compelling to serve for this entertaining solo show at Lincoln Center's Vivian Beaumont Theater. Ann is a large enough character to fill the Beaumont's vastness, and Taylor lays her out there, warts and all, with relish and consummate skill.
Taylor gets Ann talking via the rather standard but perfectly sturdy device of a college commencement address. After introductory niceties, a funny story or two, a shout-out to a local sports team, and some inspirational remarks, she segues into autobiography by noting that "my daddy was born just up the road from here." The lectern and other trappings fade away as Ann continues to regale us with her journey from a 1930s Texas childhood to marriage—at 19—to crusading civil rights lawyer David Richards, her early years as a full-time wife and mother, her struggle with alcoholism, and her entry into Texas politics. When she is elected governor the play pivots. Set designer Michael Fagin's imposing office glides downstage for occupation, and we see Ann at work, communicating with her assistant (whose voice is supplied by Julie White) via intercom, working the phone with everyone from Bill Clinton on down to get what she wants, and planning a holiday outing with her grown kids while cajoling them to be less cutthroat at charades. Once she loses re-election the office disappears, and Zachary Borovay's curiously muted upstage projections return to punctuate the monologue that's once again directed at us. Ann, now 60, is popular on the lecture circuit and ends up in New York City as a paid consultant strategizing crisis management. Cancer ends her life at 73, but Taylor gives Ann a spectral last word before she heads off to eternity.
Costumer Julie Weiss and wig designer Paul Huntley combine their efforts to create a remarkable physical resemblance, something Taylor greatly enhances through accent, speech rhythms, and body language. But all that wouldn't matter without the soul, which she delivers with passionate verisimilitude. It's clear from her extraordinary work—richly observed and finely detailed—that Taylor understands and loves her subject.
At two hours the show is longer than it should be and possesses an intermission it doesn't need, though the reason found for it, while hardly Aristotelian, is amusing. Director Benjamin Endsley Klein occasionally resorts to random blocking, and it's confusing to return to the college lecture hall for the finale (has Ann been dead for the whole evening?), but he has certainly guided his star to a triumphant portrayal. Astonishingly, this is Taylor's first Broadway gig since "Moose Murders" crashed and burned 30 years ago. Hello, Holland; it's so nice to have you back where you belong.
Presented by Bob Boyett, Harriet Newman Leve, Jane Dubin, Jack Thomas/Mark Johannes and Amy Danis, Sarahbeth Grossman, Jon Cryer/Lisa Joyner, Minerva Productions, Larry Brandt/Brian Dorsey, Kate Hathaway/Allison Thomas, Jennifer Isaacson, and Kevin Bailey, in association with Lincoln Center Theater, at the Vivian Beaumont Theater, 150 W. 65th St., NYC. Opened March 7 for an open run. (212) 239-6200, (800) 447-7400, or www.telecharge.com.
Critic's Score: B+