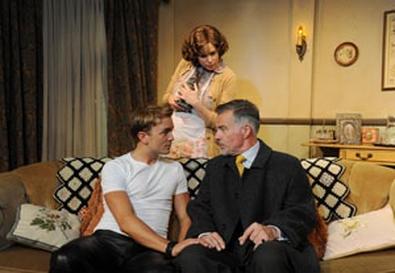 Bad-boy British playwright Joe Orton, bludgeoned to death by his gay lover, wrote funny yet disturbing plays that commented upon the darkest recesses of the human psyche. There are chilling echoes of Orton's notoriously reckless lifestyle in "Entertaining Mr. Sloane" (1964). Laugh lines and plot developments walk a tightrope between hilarity and grotesquerie. This tale of an opportunistic and amoral young hustler and the morally compromised family that gets involved with him remains resonant and provocative. Director Stan Zimmerman offers an enthralling rendition of this ever-challenging piece.
Claiming to be an orphan, comely 20-year-old drifter Mr. Sloane (Emrhys Cooper) works himself into the good graces-and the bedroom-of his lascivious employer, middle-aged businessman Ed (Ian Buchanan). Meanwhile, Sloane settles in as a tenant at the home of Ed's sister, lonely and libidinous Kath (Olivia d'Abo), a frumpy spinster who cares for her ailing live-in father (Robin Gammell). As the self-serving characters jockey to further their individual interests, continually raising the question of who has the upper hand, emotional manipulation escalates to physical violence.
The strongest performance is delivered by d'Abo, an attractive actor whose bravura transformation to slovenly hag is due to body language and expert characterization plus the wonders of Kevin King's evocative costuming. Though this character never comes close to being admirable, d'Abo imbues her with vulnerability and elicits something close to pity. Neither is Buchanan's character a man to root for, yet the actor evokes much humor from Ed's controlling, blustery demeanor. Gammell does exemplary work as the feeble patriarch, who clearly can't hold his own amid the machinations but puts up a hell of a fight. Cooper is physically perfect as the duplicitous gigolo and has fine moments, underplaying the role to contrast with the more broadly etched portraits. Yet we should see the wheels turning in Sloane's demented mind a little more clearly. Cooper is most credible when openly depicting the scoundrel's true colors. Here's hoping this classy production provides impetus for a repertory revival slate of Orton's other sublime works, such as "Loot" and "What the Butler Saw."
Presented by Dream It Productions with and at the Actors Company, 916a N. Formosa Ave., West Hollywood. June 25–July 24 and Aug. 11–21. Thu.–Sat., 8 p.m.; Sun., 6:30 p.m. www.plays411.net/newsite/show/playinfo.asp?show_id=2800.