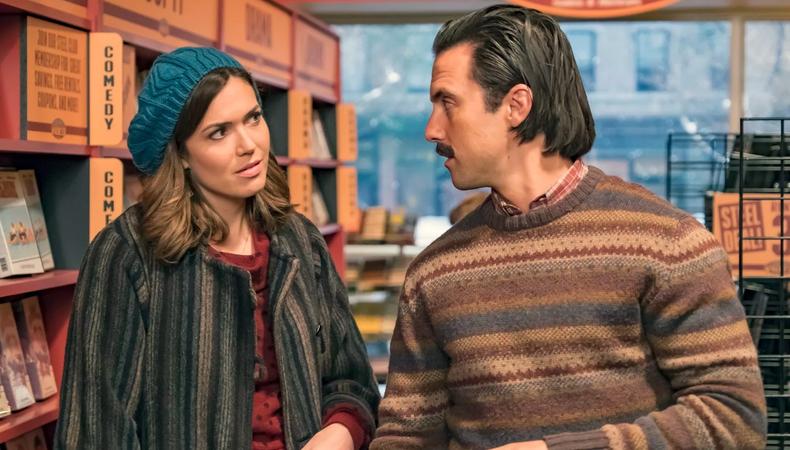 Grab your headphones and prepare yourself for some top-notch actorly advice. Backstage's "In the Envelope: An Awards Podcast" has returned with a batch of intimate interviews from the frontlines of the 2018 Emmy race. Contenders for the small screen's biggest award gave Backstage glimpses of their process, their thoughts on awards season, and the advice they wish they'd heard earlier on in their careers. Tune into "In the Envelope" on SoundCloud, iTunes, YouTube, or wherever you stream your podcasts—and catch some quick highlights below.
Mandy Moore ("This Is Us," NBC)
"Be open to making mistakes, and be open to learning how it all works. Learn about the different departments, learn what they do, just the basics. You can ask questions, but even just observing.... How lucky are we all to work on film sets and TV sets? It's this huge machine that's almost alive."
READ: Mandy Moore Has Earned Her Place Among the Dramatic Greats With 'This Is Us'
Milo Ventimiglia ("This Is Us," NBC)
"There's of course the line learning or just sitting and thinking about emotions, the emotional state, what I can bring for another actor in a scene. But the real homework just feels like soaking in life and being able to live it while the cameras are rolling. Being present."
DeWanda Wise ("She's Gotta Have It," Netflix)
"You know how they say, 'It's just who you know'? I always amend it: 'It's who you know who believes in you.' I think a lot of young artists get tripped up on trying to network up and not really cultivating the people who are right next to them."
Gina Rodriguez ("Jane The Virgin," The CW)
"We are given this idea of what the industry is and how we have to change in order to fit inside of it. That is a myth. That is 100 percent myth, and I want to just debunk that right now! You do not have to change…to fit into something else that is actually just dying to have that. The industry really wants authentic, beautiful, artistic voices."
READ: Gina Rodriguez Found Her Dream Role on 'Jane The Virgin'
Henry Winkler ("Barry," HBO)
"Once you know what you want without ambivalence, you literally put one foot in front of the other and go where you want to go. There is a path. I think of myself sometimes as mercury, and then I fit through the smallest hole in the dyke to get to the other side of the wall."
Pamela Adlon ("Better Things," FX)
"Any time you get yourself in a room, any room, you're doing yourself a great service. And the thing is—people say this is a cliché but it's not—we want you to kick ass. It's not a big, scary room. We are desperate for everybody to nail it."
Brandon Victor Dixon ("Jesus Christ Superstar: Live in Concert," NBC)
"You're dealing with rejection and personal evaluation all the time. Ultimately it's all how you feel about yourself.... And it can be very easy to fill yourself with self-doubt or a lack of self-worth and break yourself down in those ways. Fight that process and seek support, because everyone around you is doing the same thing."
Noah Schnapp ("Stranger Things," Netflix)
"If you commit to something and you really want to do it and you put your mind to it, eventually, somewhere, somehow, you'll get there. People are going to put in their hard work and work a year and get nowhere and they're going to give up. And you have to be that one person who kind of pushes past that and says, 'You know what, I'm not going to give up. I'm gonna keep going.' "
Evan Rachel Wood ("Westworld," HBO)
"I think there is real currency and integrity in being the odd one out and being slightly strange, or not being able to be put in a box. You don't want to be a dime a dozen. People will try to scare you out of your individuality because they think it makes you less of a sure thing and more of a chance. But nothing great ever happened safely or without taking a chance."
Hayley Atwell ("Howards End," Starz)
"Let the work speak for itself. [It's about] knowing that one piece of work might lead [to] an opportunity next time. So always give it your all because you don't know who's going to see it or what's going to come of it. No matter how small the experience is or the part is or the play or production is, you don't know what the effects are going to be. So just commit to it fully."
Edgar Ramirez ("The Assassination of Gianni Versace: American Crime Story," FX)
"I'm interested in the extent of the human experience. I think basically the anthropology, psychology, sociology, and performing arts, we're all basically doing the same thing, just using different methodologies. But the object of my study is the human experience. As an actor, that's what I do. It's almost like a meta-journalism: I become the object of my interest.... I enjoy doing the homework."
Cristin Milioti ("Black Mirror," Netflix)
"You have this creative life within you, you have this hunger to build something and try all these things. And yet you're in this business that's sort of looking at you like, 'Well, are you blonde?! What are you?' And that's so antithetical to what we do. So I have found it helpful to also create things."
Niecy Nash ("Claws," TNT)
"A lot of times when you go into auditions, you think the people are doing you a favor. When the truth of the matter is, it's their job to find the right person. You're doing them a favor because you brought your good talent and energy across town. You dusted off your headshot, you memorized the lines or whatever you did before you walk in there.... They want you to do great."
Sean Hayes ("Will & Grace," NBC)
"There always has to be a self-awareness. You always have to know what you are as a product and what you have to offer the marketplace. So if I'm just a person who says words, well, there are a million of those actors. But if I'm a person who says words in an interesting way and I infuse myself in them and my personality, then your chances skyrocket."
For more of Backstage's awards coverage, click here!
Ready to book your Emmy-winning gig? Check out Backstage's TV audition listings!