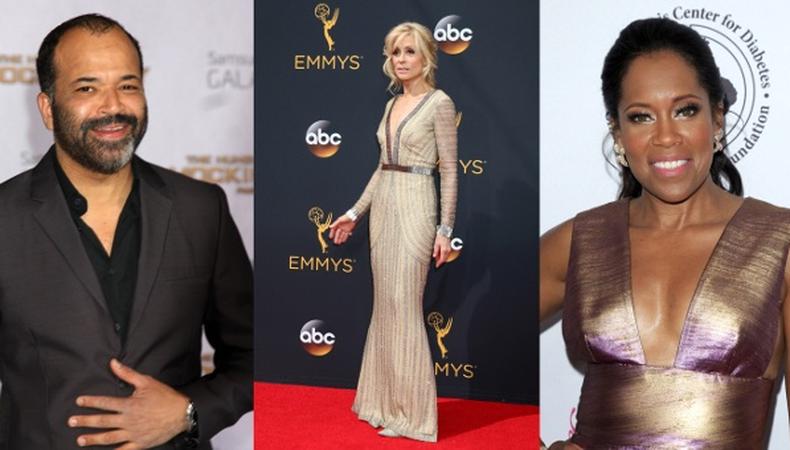 How can an aspiring TV star get Emmy attention? Backstage asked the experts: 2017's nominees and guests of "In the Envelope: An Awards Podcast." From handling postaudition rejection to the advice they would have given their younger selves, here's a roundup of insights to whet the appetites of working actors looking for inspiration via podcast.
Anthony Anderson ("Black-ish," ABC)
"You have to be ready for when that window of opportunity presents itself. And you have to work on yourself and work at your craft in the meantime. Because we're all going to get that window of opportunity. You have to stay ready.... You can't will it any sooner than what is destined, either. The only part of the equation you can control is you. So you want to be the best at whatever it is you can do."
Ann Dowd ("The Handmaid's Tale," Hulu; "The Leftovers," HBO)
"On some level, it is a choice we make how we react to rejection. I say to my students, we don't need protection against loss or rejection.... Our work as actors on a personal level is to continue to drop the armor. Just like, 'Hit me.' We have the largest hearts in the world, and therefore we are given the strength to cope."
READ: 'Westworld,' 'Feud,' 'This Is Us' Among 2017 Emmy Award Nominees
Carrie Coon ("Fargo," FX)
"I always say that to be an actor is to accept that you are capable of anything, good or bad. You have to acknowledge that possibility in yourself, and therefore accept the possibility of any circumstance that could happen to you.... What really happens is you get exposed to the things you're not good at, or that you don't have access to, and you have to figure out. Will you be able to drill down into that thing?"
Jeffrey Wright ("Westworld," HBO)
"An audition is an opportunity to perform. For me, at [the beginning of my career], I didn't necessarily have a lot of opportunities to work, even though it was work without pay—the payoff potentially was the job—so back then, you know, I was hungry. I used to take those things very seriously. For those first early [auditions] I pretty much showed up to knock it in the mouth."
Regina King ("American Crime," ABC)
"No matter where I am, no matter what I do, I am a student of some sort. This is one of the things I love about being a director: You're a leader and you're a student—sometimes at the same time."
Judith Light ("Transparent," Amazon)
"You will be one-dimensional if you don't have all of those other things that make up your tapestry. And also part of that tapestry is, Who will you be in the world? Not, What will you do? Who will you be that is of service to others? That's the job we're in. We're in a service business."
Tune in—free—to Backstage's HBO-sponsored podcast on iTunes, SoundCloud, Google Play, or YouTube for intimate interviews with the contenders of the 2017 Emmy race!
Keep an eye on Backstage's awards coverage for more behind-the-scenes looks at the 2017 Emmy Awards race!
Ready to win an Emmy statue? Check out Backstage's TV audition listings!