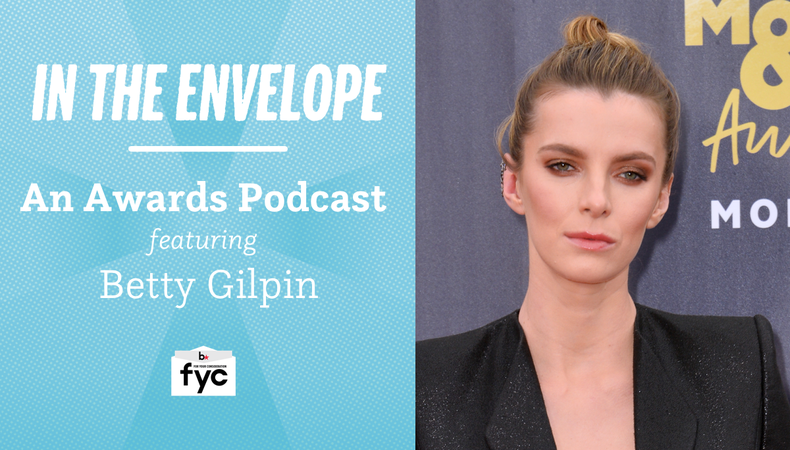 "In the Envelope: An Awards Podcast" features intimate interviews with award-winning actors and other creatives. Join host and Awards Editor Jack Smart for a front row seat to the industry's most exciting awards races, and valuable acting and career advice from contenders!
Raised by actors and inspired by theater of the absurd at Fordham University in New York, Betty Gilpin is a performer full of surprises on both stage and screen. Her characters, whether in "Nurse Jackie," "Masters of Sex," or Off-Broadway's "I'm Gonna Pray for You So Hard," are never quite as they first may appear. Whenever possible, Gilpin is determined to share what she calls, in this podcast interview, her inner "gravitas Barbie clown."
That truest expression of both her skills and herself are on full display in Debbie Eagan aka Liberty Belle, Gilpin's character on Netflix's 1980s female wrestling comedy "GLOW" from creators Liz Flahive and Carly Mensch. Season 1, which dropped amid considerable buzz in summer of 2017, earned the cast, including Alison Brie and Marc Maron, a SAG Award nomination for TV comedy ensemble. It also earned Gilpin a well-deserved Primetime Emmy nomination for supporting actress in a comedy, her first, and one of 10 nods for "GLOW."
READ: Get to Know the 2018 Emmy-Nominated Actors for Comedy
"I think that the process of auditioning and hearing 'no' all the time, it's very tempting...to pull down steel doors in your brain to protect yourself," says Gilpin. "But you're also pulling them down to things like creativity and being open and that connection to the world. So you have to be careful. You have to choose what boundaries you're going to put up to protect yourself, but not to cut yourself off from the thing that you love."
For advice on how to manage expectations when a dream role is within reach, how to balance work and life (like getting married the same week you book a career-changing Netflix show), and how to survive as a working actor in general, check out to Gilpin's "In the Envelope" interview below. And just wait until you hear about her first on-camera audition—for "Gossip Girl."
Listen now on:
Ready to earn your Emmy nomination? Browse Backstage's TV audition listings!