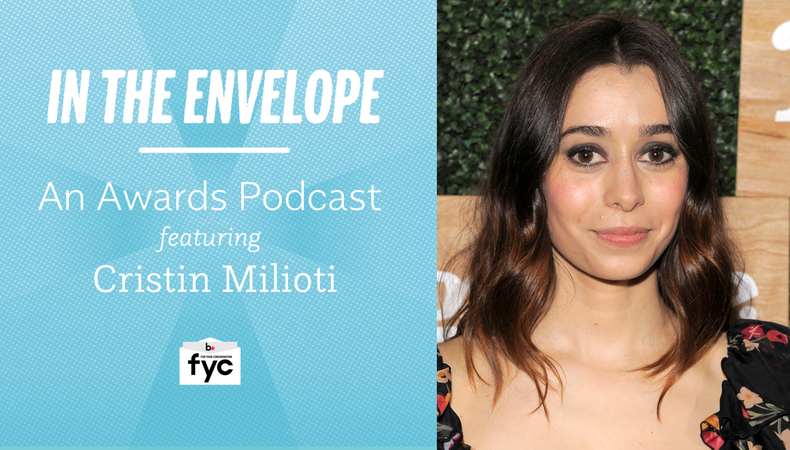 "In the Envelope: An Awards Podcast" features intimate interviews with award-winning actors and other creatives. Join host and Awards Editor Jack Smart for a front row seat to the industry's most exciting awards races, and valuable acting and career advice from contenders!
You can't pigeonhole Cristin Milioti as a performer—she's made sure of it. Partly because she's always looking for a challenge, and partly because, as she says, "the whole point of this, for me, is shapeshifting," it's hard to predict what stage or screen project she'll knock out of the park next.
Known on Broadway for, among other things, her Tony-nominated performance in "Once," and on the small screen for playing the titular role in "How I Met Your Mother," as well as memorable turns in "Wolf of Wall Street," "30 Rock," "Fargo," and "A to Z," Milioti has plenty of practical advice for artists trying to find themselves. Particularly when it comes to reconciling passion with what the industry requires and expects, the actor-writer-musician recommends mixing it up and listening to your gut; the process of figuring out what you want as an artist is an ongoing one.
Last year Milioti's discerning approach to acting paid off with a kickass, dream-come-true role in Netflix's "Black Mirror," the hit sci-fi-horror anthology series from Charlie Brooker. In the "Star Trek"-inspired caper "USS Callister," her work as Nannette Cole, a coder who wakes up on a virtual spaceship with a twist, embodied a particular, feminist pop culture moment.
Hear Milioti chat about female empowerment on our screens, dropping out of NYU, and the importance of empathy today in her "In the Envelope" interview. And don't forget to follow the podcast on Twitter!
Listen now on: