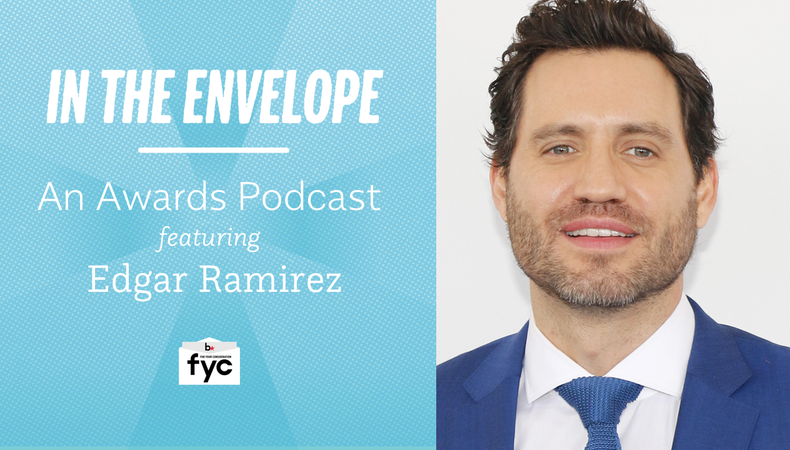 "In the Envelope: An Awards Podcast" features intimate interviews with award-winning actors and other creatives. Join host and Awards Editor Jack Smart for a front row seat to the industry's most exciting awards races, and valuable acting and career advice from contenders!
Whether you're more of a left-brained or right-brained thinker, this interview with Edgar Ramirez has something for you.
The star of "Carlos," "Zero Dark Thirty," "Hands of Stone," and more, the Emmy- and Golden Globe-nominated actor approaches his characters with alternately analytical and emotionally intelligent techniques. As an activist with a background in political journalism, both in his native Venezuela and abroad, he relishes the facts-based research required in the actorly process, while at the same time embracing poetry, recognizing that "there's nothing objective about the human experience." His advice on transforming into a character? Do your homework.
This year Ramirez brought that crucial curiosity to the title role in "The Assassination of Gianni Versace: American Crime Story," Ryan Murphy's latest FX miniseries exploring the 1997 murder of the Italian fashion mogul. Co-starring Darren Criss, Ricky Martin, and Penélope Cruz as Donatella Versace, the limited series unpacked '90s culture, homophobia then and now, and the nature of sociopathy. In giving nuanced life to Gianni Versace, Ramirez used every tool in his actorly toolbox, a process he illuminates in his expansive "In the Envelope" interview.
Also in today's episode: a brief discussion of the 72nd annual Tony Awards! Listen in below.
Listen now on: