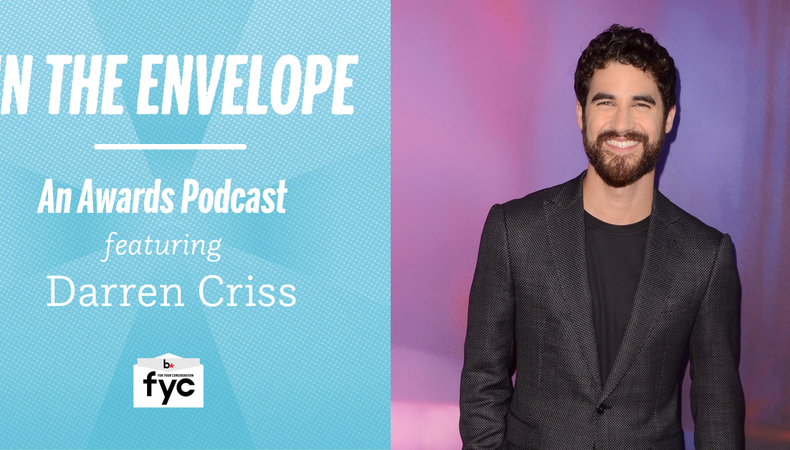 "In the Envelope: An Awards Podcast" features intimate interviews with award-winning actors and other creatives. Join host and Awards Editor Jack Smart for a front row seat to the industry's most exciting awards races, and valuable acting and career advice from contenders!
First a viral hit in a college "Harry Potter" parody musical, then a breakout triple threat on "Glee" and Broadway, and now Emmy-nominated for playing an assassin, Darren Criss is one of today's most versatile storytellers. It's also no surprising to anyone familiar with his work that he gives an exceedingly charming podcast interview.
"I am such a fan of the human race," he tells Backstage. "Despite all our dumb bullshit, I love human beings. Despite all of it, I really believe in our resilience and in our beauty and all the things that we're capable of.... I like to highlight as many different parts of the infinite palette of colors that make us up, that make the human experience up. So if my paintbrush can illustrate and use as many of those as possible to help people find as many common denominators not only between the story they're watching, but with each other, that's my plight."
Playing the lead role of Andrew Cunanan in "The Assassination of Gianni Versace," the second season of Ryan Murphy's anthologized FX hit "American Crime Story," Darren dug deep into the darkest parts of his own psyche—and managed to find, as he always does, that common humanity. Cunanan, a gay man who went on a killing spree in the 1990s that included fashion mogul Gianni Versace, is the role of a lifetime and Criss' most challenging to date. The performance is nominated for Outstanding Lead Actor in a Limited Series or Movie at the upcoming 70th Primetime Emmy Awards, alongside those of supporting actors Edgar Ramírez, Ricky Martin, Finn Wittrock, Penélope Cruz, and Judith Light; the limited series is up for a whopping 18 Emmys total (its first season, "The People v. O. J. Simpson," won nine).
'In the Envelope' Podcast: Edgar Ramirez Studies Up for 'The Assassination of Gianni Versace'
In the final "In the Envelope" episode of this Emmys season, Criss talks about channeling the Greek tragedy-esque gravitas of Murphy's work, his musical theater company StarKid Productions, and the trick to creating the material that can give you your big break.
Listen now on:
Ready to earn your Emmy nomination? Browse Backstage's TV audition listings!