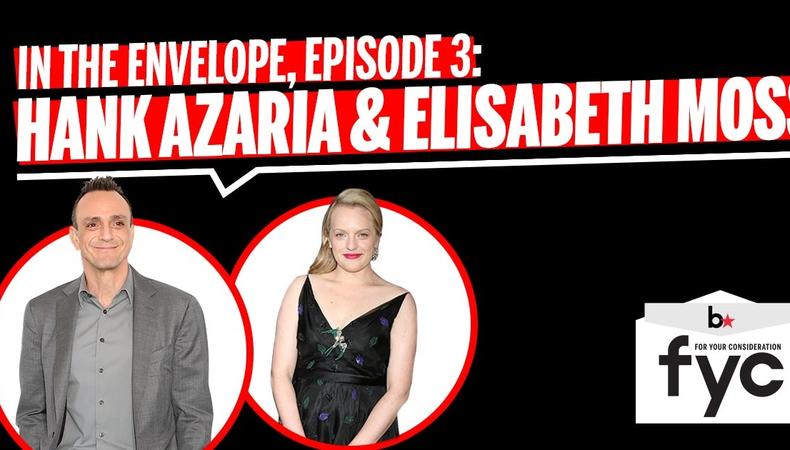 "In the Envelope: An Awards Podcast" features interviews with award-winning actors and other creatives. Join host and Awards Editor Jack Smart for a front row seat to the industry's biggest awards races! Brought to you by HBO.
On today's episode of "In the Envelope," we welcome a six-time Emmy nominee and six-time winner!

Elisabeth Moss is best known for her work as Peggy Olson on seven seasons of AMC's "Mad Men," a role that got her enough attention to turn her into one of the industry's busiest indie film and TV actors. She earned one of six Emmy nods and a Golden Globe Award in 2014 for Jane Campion's Sundance Channel mini-series "Top of the Lake," a show returning this year for a highly anticipated sophomore season, as well as a 2015 Tony nomination for Broadway's "The Heidi Chronicles." Moss joined Backstage to chat about new role as star and producer of Hulu's "The Handmaid's Tale," the buzzy TV adaptation of Margaret Atwood's dystopian drama currently taking viewers—and awards pundits—by storm.

Hank Azaria is revered by actors everywhere. The voiceover community considers him the best of the best, particularly for his almost 30 years working on Fox's "The Simpsons," featuring his uncanny ability to warp his voice into idiosyncratic characters including Moe, Apu, and Chief Wiggum. Among his many awards for the big and small screens are 12 Emmy nominations and six wins: four for "The Simpsons," one for 2000 TV movie "Tuesdays with Morrie," and one just last year as guest actor on Showtime's drama "Ray Donovan." He stars this year in the HBO TV movie "Wizard of Lies" and on the new IFC series "Brockmire"—a comedy about, as Azaria puts it, "a charismatic, alcoholic, disgraced baseball announcer." He told us about the character's long development process, his attitude toward auditions and rejections, and how Backstage actors can win an Emmy!
Be sure to like, rate, and subscribe for more interviews from the frontlines of the Emmy race.
Listen now on: