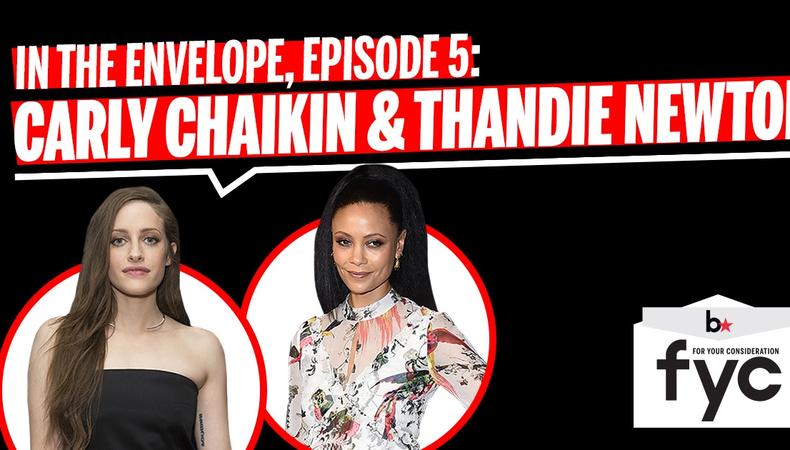 "In the Envelope: An Awards Podcast" features interviews with award-winning actors and other creatives. Join host and Awards Editor Jack Smart for a front row seat to the industry's biggest awards races! Brought to you by HBO.
This week's (extra fabulous) episode of "In the Envelope" features two contenders in this year's Emmy race for supporting actress in a drama, who appear in two of the buzziest, grittiest, and most riveting series on the small screen.
Thandie Newton is an award-winning actor and activist, always on the lookout for on-camera roles that enable her to merge those two identities. Little did she know HBO's "Westworld," Jonathan Nolan and Lisa Joy's sci-fi drama featuring cowboys and robots, would provide that opportunity. As Maeve Millay, the overseer of a brothel gradually discovering she's a sophisticated robot designed to believe she's human, Newton gives the performance of her already impressive career. The powerhouse role, which she calls the best she's ever had, earned her a Critics Choice Award plus Golden Globe and SAG nominations. How does she pull it off?
Carly Chaikin also joined us for a candid discussion of the nuances of casting, auditioning, and navigating the television industry. The actor got her big break in the ABC sitcom "Suburgatory," in a role that won her a Critics' Choice Television Award, before becoming a regular on "Mr. Robot." The USA network's first prestige series, Sam Esmail's hacker drama captured the attention of audiences and critics, winning the 2016 Golden Globe for best drama and an Emmy for its lead Rami Malek. As Darlene, a hacker and revolutionary, Chaikin gives one of the show's many unmissable performances.
Be sure to like, rate, share, and subscribe for more interviews with some of the competitors in the 2017 Emmy race.
Listen now on: