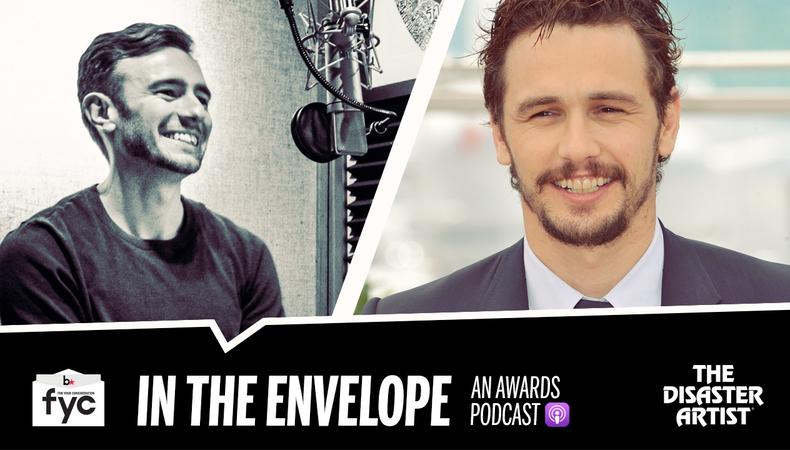 "In the Envelope: An Awards Podcast" features interviews with award-winning actors and other creatives. Join host and Awards Editor Jack Smart for a front row seat to the industry's biggest awards races! This episode is brought to you by A24's "The Disaster Artist," in theaters Dec. 8.
Whether you know James Franco from his comedic masterpieces alongside Seth Rogen and Judd Apatow ("Freaks and Geeks," "Pineapple Express"), his Academy Award-nominated work in "127 Hours" (and the accompanying Oscars hosting gig), or even his paintings and poems (he has a PhD from Yale!), chances are your impression is only a piece of the overall puzzle of his artistry.
Do you think of him as the megastar of blockbusters like "Spider-Man?" Or as a critically acclaimed acting virtuoso in "Milk" and "Spring Breakers?" Or for that guest role on "General Hospital?" Zipping from the director's chair to Broadway to the classroom, Franco is both one of Hollywood's biggest stars and its most relentless workaholic outside the mainstream. So prolific that his IMDB page lists 17 acting and 19 producing credits in 2017 alone, it wasn't until recently that he slowed down to focus on a select few projects.
One is "The Deuce," HBO's portrait of seedy 1970s New York created by George Pelecanos and David Simon, a TV drama that enables Franco's multi-hatted approach; he produces, often directs, and stars as both twin brothers at the dawn of the pornography industry.
The other is A24's "The Disaster Artist," in theaters everywhere Dec. 8. Directed by Franco and adapted for the screen by Scott Neustadter and Michael H. Weber, it tells the story behind the making of the most notoriously bad movie in Hollywood history, "The Room." Starring James and Dave Franco as Tommy Wiseau and Greg Sestero, respectively, the biopic features all of Wiseau's singular idiosyncrasies—his cultivated mystery, vampiric physicality, the millions of dollars he spent to qualify his film for the Oscars. But Franco also captures what's underneath: the yearning eternally felt by aspiring actors and filmmakers who move to Hollywood with stars in their eyes. It's as much an ode to the American dream as a mirroring of Franco's own ambitions.
In the midst of a promising awards season—Franco has earned this year's Gotham Award and a Film Independent Spirit nomination—the multi-hyphenate gives Backstage a glimpse at his artistic process and mind-blowing work ethic. Listen in below.
Listen now on: