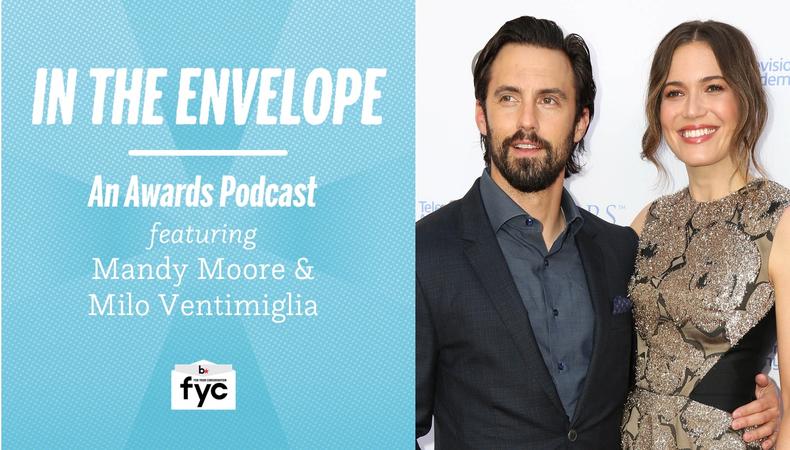 "In the Envelope: An Awards Podcast" features intimate interviews with award-winning actors and other creatives. Join host and Awards Editor Jack Smart for a front row seat to the industry's most exciting awards races, and valuable acting and career advice from contenders!
Kicking off a new awards season with a round of episodes pegged to the 2018 Emmy Awards, Backstage's "In the Envelope" podcast is thrilled to welcome the leads of "This Is Us": Mandy Moore and Milo Ventimiglia.
Dan Fogelman's NBC family drama hit record numbers in its first and second seasons; audiences across the country are reaching for their tissue boxes every week. The Pearsons, portrayed by Moore, Ventimiglia, Sterling K. Brown, Susan Kelechi Watson, Chrissy Metz, and Justin Hartley, among others, bring something recognizable to the small screen, a universality that was recognized by members of the Screen Actors Guild: the "This Is Us" cast won the 2018 SAG Award for ensemble in a drama.
Moore was introduced to Hollywood at a young age as a pop star, although she's also known for her work in films including "A Walk to Remember," "The Princess Diaries," "American Dreamz," and "Tangled." Her audition for matriarch Rebecca Pearson in "This Is Us" followed an acting dry spell for Moore, who came close to booking multiple TV pilots and was beginning to doubt her career path. She tells Backstage about persevering in spite of those doubts, transforming her character with the help of aging makeup, and—let's face it, the big question—how to cry on camera.
Ventimiglia also began relatively young, his first on-camera credit being an appearance opposite Will Smith in "The Fresh Prince of Bel-Air." Gaining recognition first in Amy Sherman-Palladino's "Gilmore Girls" and then in superhero drama "Heroes," Ventimiglia built an impressive film and TV résumé as well as a reputation as a generous collaborator. He brings that spirit to the set of "This Is Us," both on camera as the doomed Jack Pearson and on set. His advice for actors? Root for everyone around you, because it's only going to up your own game.
Check out these two fascinating interviews by tuning into the podcast on any of the options below. And don't forget to follow "In the Envelope" on Twitter!
Listen now on:
Check out Backstage's TV audition listings!