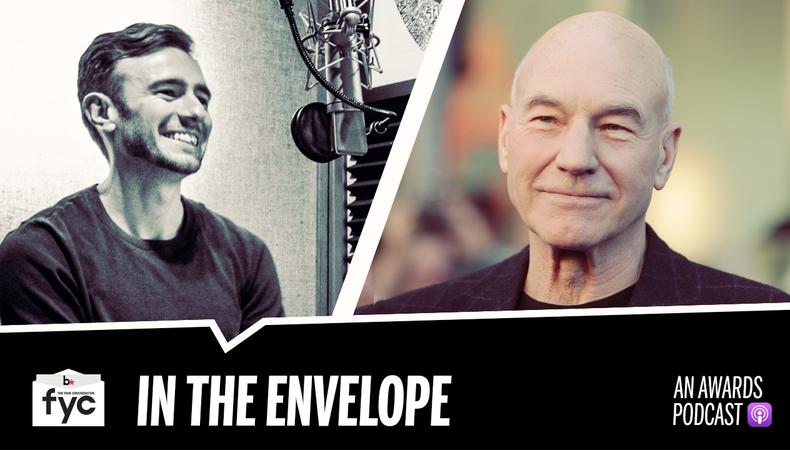 "In the Envelope: An Awards Podcast" features interviews with award-winning actors and other creatives. Join host and Awards Editor Jack Smart for a front row seat to the industry's biggest awards races!
In addition to being one of the industry's most powerful and prolific actors, Patrick Stewart has a voice of pure gold. You can hear it now, in all its grand glory, on the "In the Envelope" podcast!
The Olivier-, Emmy-, Golden Globe-, and SAG Award-nominated legend, best known for playing Captain Jean-Luc Picard on the iconic "Star Trek: The Next Generation" and Professor Charles Xavier in the "X-Men" film franchise, can be heard below chatting about audition advice, giving characters life, and the similarities between science fiction and the Royal Shakespeare Company. Born in England, where he studied classical acting and performed as a member of that company, among many others, Stewart was knighted in 2010 by Queen Elizabeth II for services to drama.
Writer-director James Mangold's "Logan," the latest and last iteration of Stewart's feature film performances as Xavier, was released in March of last year by 20th Century Fox. Opposite Hugh Jackman as Wolverine also for the last time, Stewart lends nuance and poignancy to a drama grounded in love, survival, and family rather than superheroic spectacle. One of the season's unexpected contenders, "Logan" was recently nominated for a Writers Guild Award, and Stewart received a Critics' Choice Award nomination.
Listen to the one and only Sir Patrick Stewart by clicking the link of your choice below.
Listen now on: