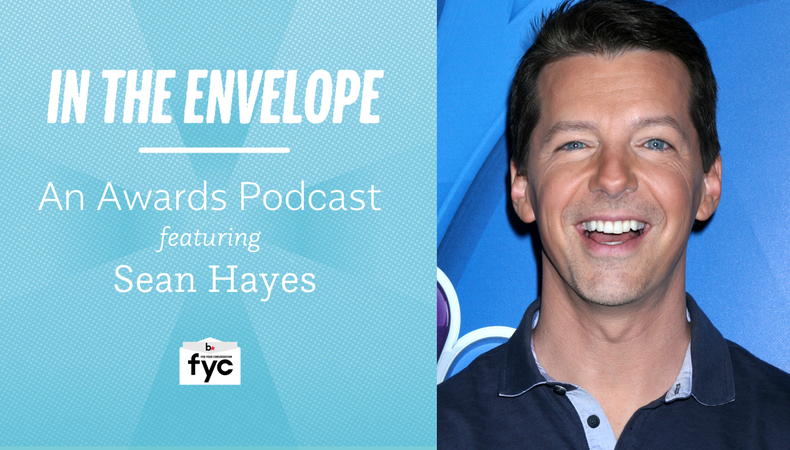 "In the Envelope: An Awards Podcast" features intimate interviews with award-winning actors and other creatives. Join host and Awards Editor Jack Smart for a front row seat to the industry's most exciting awards races, and valuable acting and career advice from contenders!
Chances are you know the final guest of this season of "In the Envelope" as the hilarious Jack McFarland on NBC's hit sitcom "Will & Grace." The role not only earned Sean Hayes an Emmy in 2000 (with seven acting nominations), four SAG Awards (13 total nods), and six Golden Globe nods, it put an out gay man on network television, making political as well as cultural inroads for LGBT media representation.
In 2017, after almost a decade off the air, "Will & Grace" has returned, as outrageously funny as ever thanks to creators David Kohan and Max Mutchnick, director James Burrows, and stars Debra Messing, Eric McCormack, Megan Mullally, and Hayes. The actor tells Backstage about the challenges and delights of returning to such well-known characters, and how his instincts—homed in his native Chicago as a music director and comedian, his Tony-nominated "Promises, Promises" run on Broadway, and countless other roles—kicked back in, despite the rigors of giving life to someone as physically and emotionally dynamic as Jack.
Hayes also develops entertainment as part of his company Hazy Mills Productions alongside Todd Milliner, meaning he's one of the hardest-working artists in Hollywood—and that he has many pieces of advice from both sides of the audition room table. Chief among them: "Be nice and work hard."
Don't miss Hayes' wonderful interview, and stay tuned for more podcast episodes following the July 12 announcement of the 70th Primetime Emmy Award nominees!
Listen now on: