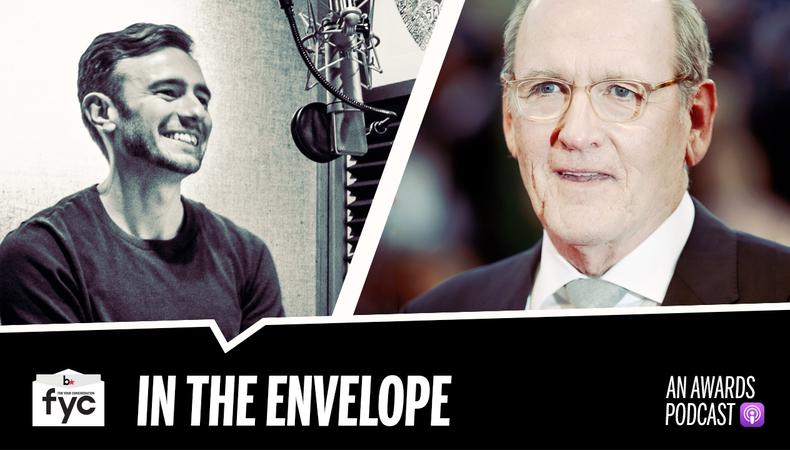 "In the Envelope: An Awards Podcast" features interviews with award-winning actors and other creatives. Join host and Awards Editor Jack Smart for a front row seat to the industry's biggest awards races!
Ready for more interviews from the frontlines, this time during Hollywood's favorite time of year? We kick off Season 2—and an exciting film awards season—with an in-depth chat with Richard Jenkins.
A SAG Award nominee (for "Six Feet Under"), Academy Award nominee ("The Visitor"), and Primetime Emmy winner ("Olive Kitteridge"), Jenkins has been steadily working his way into audiences' hearts with decades of empathetic performances. First inspired by seeing Michael Caine on screen, Jenkins began on the stage as an apprentice, then actor and director, then eventual artistic director of Trinity Repertory Company in Rhode Island. In his mid-thirties, he began auditioning for film and TV roles, bringing his organic acting to fascinating role after fascinating role.
In his "In the Envelope" interview, Jenkins talks about making choices as an actor—and the benefits of not making choices or developing backstories—feeling regrets over his own performances, good and bad writing, and whether the term "character actor" applies. He also chats about his work in Fox Searchlight Pictures' "The Shape of Water," Guillermo del Toro's sci-fi period feature film to be released in theaters Dec. 8. As Giles, closeted and withdrawn neighbor to Sally Hawkins' lovestruck mute Elisa, Jenkins' greatest acting strength is on display: living a real life onscreen—or, as he puts it, "being at home in front of the camera."
Check out the interview by clicking on any of the listening options below!
Listen now on: