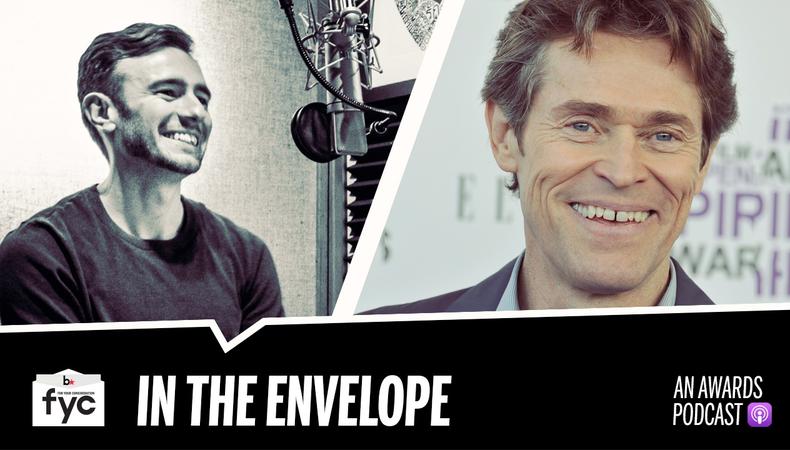 "In the Envelope: An Awards Podcast" features interviews with award-winning actors and other creatives. Join host and Awards Editor Jack Smart for a front row seat to the industry's biggest awards races!
Few actors' résumés offer as much variety as Willem Dafoe, an on-screen presence who seems unclassifiable. It's not enough to dub him "chameleonic" or "versatile"; watching performances of such depth and credibility hint at something deeper, targeting the heart more than the brain.
Nailing down what makes Dafoe great may prove futile, as his "In the Envelope" podcast interview suggests. Does his secret lie in choosing both mainstream blockbusters ("Spider-Man," "Finding Nemo") and off-the-beaten-path indie classics ("The Boondock Saints," "Antichrist")? Is it the practical theater training from his days of co-founding the Wooster Group? All we know is his three supporting actor Academy Award nominations are a triptych of superbly dynamic acting: 1986's "Platoon," 2000's "Shadow of a Vampire," and now this past year's "The Florida Project."
Written and directed by Sean Baker and distributed by A24, "The Florida Project" stars Dafoe as the manager of a rundown motel in Florida, just out of reach of Walt Disney World. Alongside newcomers Brooklynn Prince and Bria Vinate, as well as a host of real-life motel residents, Dafoe and Baker construct a gaudily colored yet forgotten world where a child's joyous imagination reigns, even as poverty beckons the adults away from such fantasy.
With the Oscars around the corner, check out the season finale of "In the Envelope" below, in which Dafoe chats about the challenges of playing naturalism, bringing himself to each role, and—if you listen all the way to the episode's end—what beverage not to drink right before bed.
Listen now on: