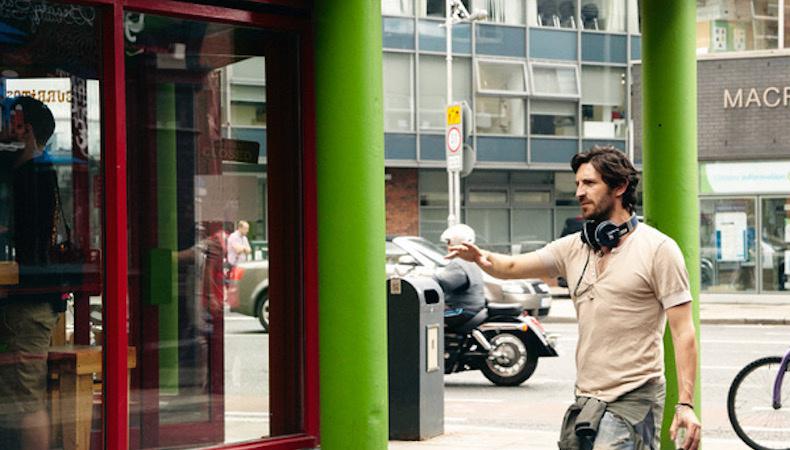 The following Career Dispatch essay was written by Eoin Macken, a model-turned-actor-filmmaker. His new movie, "Here Are the Young Men," starring Anya Taylor-Joy, is now available on-demand.
Listen to everything, learn from everybody, then follow your instincts, and do your own thing.
I think that sounds like relatively sage advice. Maybe. I'll be upfront, I am honored to have been asked to write a piece like this, because Backstage was the publication I used to consume voraciously when I was living hand-to-mouth in both Los Angeles and New York, studying acting and trying to figure out if I could possibly have a career. So to write freehand now on acting, modelling, and filmmaking feels like a cheat code somehow.
I don't think people want a creative version of my life story. So I'll keep it to how I almost had to quit on multiple occasions because I was broke, but was pulled out of the black hole by a modelling job or commercial. Which brings me back to my opening gambit: that in my opinion there is no right or wrong way to be an actor, model, or to make films and to tell stories. You do your own thing, stick to it, and fight tooth and nail, because nothing comes easy; it all feeds into itself and your career. And nobody knows which will work first. Besides, if it was predictable, where would be the joy in those small victories?
I trained with two great coaches, Nina Murano in New York (seriously, look her up and go to her Meisner class immediately), and the late, great Vincent Chase in Los Angeles. To make my way through these classes, I was "modeling"—poorly, I might add, but I somehow got by in the fashion industry. A modelling visa was my entry into the creative world of whatever it is we are all trying to do here, and it was through modelling that I was able to pay for acting classes, to train, and travel.
I was lucky, but I also used every spare moment I had to train, and every spare cent to make films. I made films the moment I knew I wanted to be an actor, not because I knew what I was doing, but because I wanted to learn, to get better, to understand film and cinema and because I loved it. My first film was a tiny short called "Dreaming For You" that I shot myself using actors from my acting class with Vince. My second film was a no-budget feature of the same name, with actors from Nina's class.
Now I have a film that's just been released across the U.S., U.K., and Ireland, starring Travis Fimmel, Anya Taylor Joy, Finn Cole, Dean Charles Chapman, Ferdia Walsh Peelo, and Emmett J Scanlan. That film is adapted from an acclaimed Irish novel called "Here Are The Young Men." If you can watch it, I implore you to try, and (hopefully) be prepared for it to affect you because it is a deliberately transgressive experience that aims to raise some sharp moral questions.
But back to how those aforementioned experiences shaped how I understood my craft; how I discovered the different facets of filmmaking; how I appreciated the difficulties it entails at all levels. But also, how I enjoyed the sheer fun of it all. Even broke and making no money from those early projects, the joy of creating outweighed anything else, and the pleasure and pride in having them play in film festivals was always worth the hours of sweat and blood.
The first project I sold professionally, to the Irish TV channel RTE, was actually a documentary about modelling and the fashion industry. I started modelling in Dublin, and that feeling of community between the arts and fashion was formative for me. Myself and an actor named Carl Shaaban, who was also a model, met doing a test photoshoot. We decided we wanted to make a project about the art of photography and modelling and fashion, partly because of the stereotypes associated with modelling at the time. And that documentary became the first film I sold, something I had created, and it was based off of my experiences in modelling.
And that brings me full circle. In everything I have experienced, I have tried to learn something, so here it is: I learned from Bruce Weber, Mike Bunn, Peter Lindbergh, Niall O'Brien, Gerry Balfe Smyth. Lance Accord is a Weber alum; Mike Bunn is one of the greatest Irish photographers of all time who taught me about understanding light and that one light from the sun is the driving force behind all light and shade; Gerry Balfe has worked on all my films and taken the most amazing stills since we first met on a modelling shoot back in college; Niall is now an amazing director in his own right. Every piece of artistic endeavour is connected, and you can learn from everybody if you want to.
READ: How Modeling Casting Calls Really Work
But at the end of it all, to surmise in some fashion, take everybody's advice with a pinch of salt and again, just do your own thing. Keep learning and keep creating, because that's why we all do this, but do your own thing. Always. And don't let anybody tell you otherwise.
Thanks for reading, and thanks for giving me this full-circle moment. To the younger me living across from Rocker Ralphs and reading this over coffee, hurry up and make another film and to hell with what anybody else thinks. What you do can only ever be uniquely you.
Looking for remote work? Backstage has got you covered! Click here for auditions you can do from home!