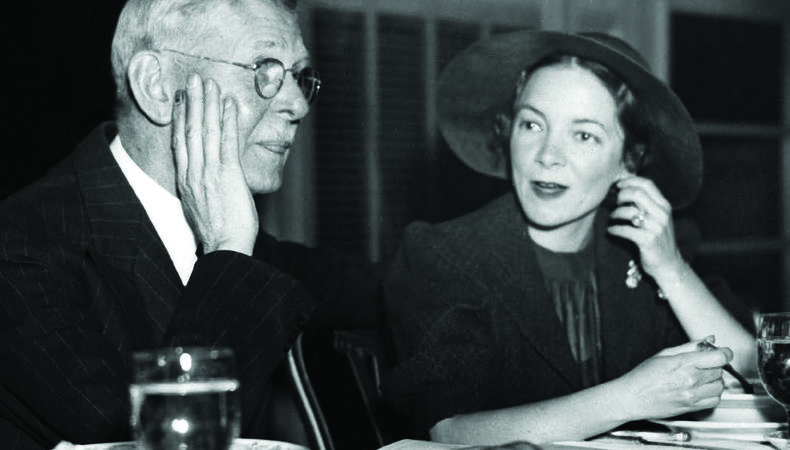 December of 1984, AIDS was ravaging New York's artistic community. When stage manager Jane Neufeld bumped into actor Arne Gundersen on a street corner that month, the conversation quickly, naturally turned to the epidemic that was stealing the lives of so many of their friends—and that the American mainstream had yet to embrace as a force worth fighting. The two theater professionals also happened to be members of Actors' Equity Association's executive council. They wondered what, if anything, their union could do to advance the cause of combating the disease. Then, like good union officers, they formed a committee. Neufeld and Gundersen joined with actors Patrick Quinn and Judy Rice and stage manager Jane Robertson to begin laying the groundwork for what would become Broadway Cares/Equity Fights AIDS. Since its formal founding in 1988, the organization has raised more than $225 million to provide services to the critically ill.
The origin of Broadway Cares/Equity Fights AIDS is recounted in Robert Simonson's lavish book, "Performance of the Century," a history of Equity published to honor the centennial anniversary that the union is celebrating this year. The story marks one of the high points in the union's 100 years and illustrates a truism expressed by Equity's current president, Nick Wyman.
"One of the things about Actors' Equity that we hold dear to our hearts is that there is no problem that cannot be solved with a committee," Wyman says. "It is probably carved over our entrance."
Wyman is speaking from Equity's New York headquarters—just two blocks from the Shubert Theatre, where in about an hour Wyman will preside over the Gypsy Robe ceremony for one of Broadway's newest hits, "Matilda." Doing the Gypsy Robe—a decades-old tradition that ties every Broadway cast to the Main Stem's history—is one of the pleasures Wyman, now in his second term, enjoys as Equity's 18th president. But as he looks back on his union's 100-year history—and ahead to its future—Wyman emphasizes that the greatest perk of the job is the opportunity to serve.
"I think one of my main jobs is to make my members feel good about the choice they made to be a professional actor," Wyman says. "To let them know that there are folks looking out for them."
When Equity formed in 1913, live theater was the nation's fourth-largest industry. Producers' profits were padded by scurrilous practices such as not compensating actors for rehearsals, forcing actors to provide their own costuming, and issuing half salaries to actors for performances on holidays and election days. The lack of legitimate competition from a still-silent film industry didn't hurt the bottom line, either.
A century of negotiation-table dustups—and the occasional strike—has established working conditions that actors could have only dreamed of when Ethel Barrymore was the public face of Equity's first work stoppage in 1919. But live theater, even in its most Disney-fied forms, is more subculture than mainstream culture now, with far more eyeballs and dollars drawn not just to film and TV but also to streaming video and interactive games. For Equity, part of the battle is not just keeping theater arts relevant in a wireless world but defending its members' rights as the lines between live and recorded performance blur.
"Not to be glib about it, but I truly do believe that live theater is live theater and there is no substitute for it," Wyman says. "But at the same time, our producers see an opportunity to amortize the cost of their productions and to promote their pieces, to build their brands and to make more money—some of which we hope will end up in our members' pockets—by capturing our members' images and putting it out there in the ether. When they do that, it is our job to look out for our members' interests."
Looking out for members' interests has sometimes meant taking a hard stand when it comes to technological incursions into the performance space. Independent theater producers have, for instance, complained about a provision in Equity's showcase code that prohibits any "televising, broadcasting, visual and/or sound recording, cast album recording, motion picture filming, video taping or other mechanical or electronic reproduction." But Wyman acknowledges the union should be responsive to the evolving role of technology in the entertainment industry: "If we can figure out any ways to help [producers] make money so that they can do more of this and give more of my members jobs, that's a great thing."
But as Equity looks to the future, its greatest task will not be figuring out how to live in peace and harmony with the iPad. That is largely SAG-AFTRA's problem. Instead, the union faces a much older, much more fundamental concern.
"The biggest challenge is the basic fact that this business doesn't make money," Wyman says. "I have great sympathy for the not-for-profit theaters around the country who are trying to figure out how they can make ends meet when they've lost any money that they were getting from the local government. They're losing money from their sponsors and donors who have taken a hit in the market. They're losing money from their subscribers." When Wyman says that those theaters have been "hemorrhaging money," countless data points from studies on the fiscal health of regional theater and the arts in general back him up. "Our response to this should not be 'Pay us more money; we don't care if you go under or not.' And their answer should not be 'Let's do fewer shows with fewer people.' The answer needs to be 'Let's make people aware of how great the theater is.' "
Wyman is a convincing advocate, noting that as a labor-intensive industry, theater is a great jobs creator. "And it's shovel-ready," he says. "There are plays sitting in drawers all over the country." He also makes a pretty good art-for-art's-sake argument. "There are few things more joyous and enjoyable than collaborating with a bunch of other people doing disparate tasks and arriving at the end result of a piece of theater. It's fantastic."
In the introduction to "Performance of the Century," which was commissioned by Equity, Simonson describes Equity's existence as "basically unimaginable," noting that unions, demonized as they are today, have always been associated with blue-collar workers and public servants. "That a labor union governed by performers, and speaking for performers, has survived for a century is nothing less than a miracle," he writes.
Wyman shares that appreciation for Equity's unlikely arrival at its 100th anniversary.
"People think of actors as these narcissists who only care about themselves," he says. "Not only did these actors band together to work with one another; we've looked out for our fellow man—in terms of fighting against racism, fighting against homophobia, fighting against the blacklist, for marriage equality, for better working conditions. It's been a very other-oriented body. I feel wonderful about our history and who we've shown up as over the last hundred years."