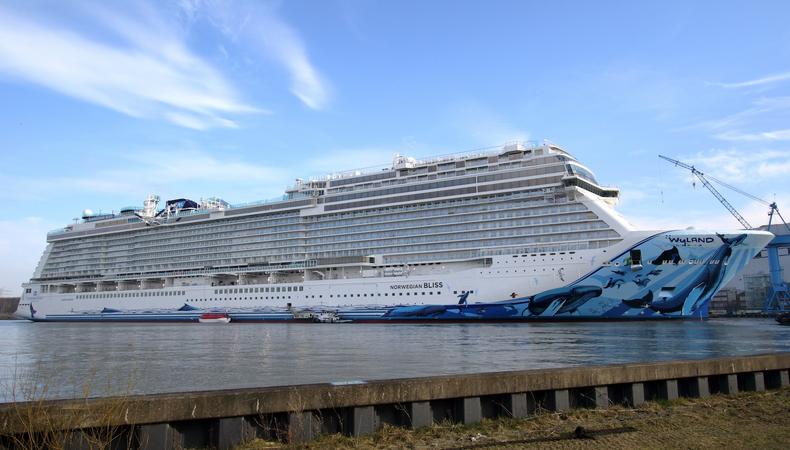 Earlier this year, a dazzling new cruise ship made its rounds of the United States' coastal cities, wowing eager onlookers and curious travelers. The ship's maiden voyage also represented a notable victory in recruiting for the nation's union of stage actors. While Norwegian Cruise Line debuted its much-anticipated Norwegian Bliss cruise ship in New York City, Actors' Equity trumpeted its contract agreement for workers on the docked vessel. The three-day contract is the first full Equity cast agreement of its kind between the union and a cruise line.
Norwegian's agreement with Equity exclusively covered May 3–5 while the ship harbored in NYC on its unveiling tour, according to a union press release. In addition to health care and pension points, the deal added $575 to the daily paychecks of union actors and $750 per day for union stage managers.
The headlining show for the vessel (which can board more than 4,000 people) will be the reliably popular 2005 jukebox musical "Jersey Boys." Also on the ship's roster is an original Cuban-themed musical comedy, "¡Havana!," created by British director-choreographer Warren Carlyle. A late-night cabaret, "Happy Hour Prohibition," also employed union actors aboard the luxurious new ship.
The short-term contract covered two performances of "Jersey Boys" and four performances of "¡Havana!" in the ship's new 950-seat Bliss Theater. In a phone call with Backstage, Equity representatives confirmed that the arrangement resulted in 35 union contracts total for NYC members.
"I'm thrilled that Norwegian Cruise Lines hired members of Actors' Equity while the Bliss docked in New York," said Mary McColl, executive director of Equity, in the union's press release. "This is a first step, but one that underscores big changes we are making to go out and organize new work for Equity members, wherever live theater might be happening."
The entertainment offerings have demonstrated a marketable appeal for the ship. "Norwegian has been committed to providing our guests with the finest entertainment at sea, and we have elevated this commitment," said Andy Stuart, president and CEO of Norwegian, in a wire press release. "It has been such an honor to have icons in the music and theater world partner with and join us on this inaugural tour."
Gigs at sea can be a tossup for performers; while actors get romantic (albeit humble) accommodations, health care, and the opportunity to travel the world, the conditions of the floating resorts are variable by nature. Putting cruise liner productions under a union contract is indicative of Equity's recently enhanced recruiting measures, which put pressure on nontraditional venues to provide more meticulous conditions for working actors. The union is bundling the agreement with its Equity 2020 activism campaign. The initiative—which was a key platform item for a successful vote last year to increase union dues—promises more aggressive and creative recruitment tactics.
Union politics and supervision can get tricky on the open seas. When vessels are traveling on international waters, a union's purview can be called into question, and terms of protocol can get fuzzy. Disney, which was hiring actors around the same time Equity announced its nautical labor agreement, does not offer Equity contracts for entertainers aboard its cruise ships—though actors at Disney World in Orlando, Florida, make up an island of union membership in an otherwise scant union state.
Though the ship continued its inaugural tour after its rendezvous in NYC—dipping into Miami, Los Angeles, and Seattle—none of those latter stops were under the protocols of a union gig for the actors aboard.
For now, though, Equity is celebrating the successful negotiation with Norwegian. Though the contract lasted only a few days, it was a first for the labor organization. The success with contracting Norwegian's new ship could be indicative of a new Equity attitude—plunging into uncharted waters.

Check out Backstage's cruise lines listings!