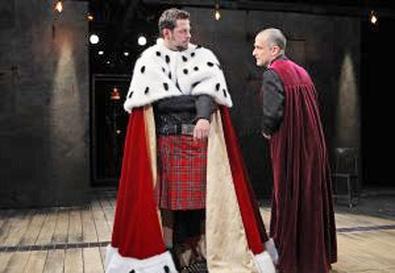 Playwright Bill Cain risks a pack of bad luck by extensively quoting the Scottish play in "Equivocation," a rambling, mixed bag of a play. It's an ambitious piece, and the author deserves credit for tackling some deep themes, but there's too much going on and it's told in such a confusing manner, I don't have to equivocate: The verdict is thumbs down.

Cain seems to be after a kind of Stoppardesque, slightly distorted view of English history. His story is set in the early 17th century, as William Shakespeare—here called Shag-speare—is commissioned by the cold-blooded royal counselor Sir Robert Cecil to fashion a workable play on the Guy Fawkes Gunpowder Plot of 1605, a failed conspiracy by Catholic sympathizers to blow up the Protestant King James I and Parliament. The scheming Cecil threatens Shag with arrest for treason unless he uses the official version of events—written by the king himself—to turn out a pro-James propaganda piece. As the Bard digs deeper into the attempted mass assassination, he discovers troubling inconsistencies in the evidence and conflicting testimony from the about-to-be-executed surviving conspirators. There are also Shag's strained relations with his company, the King's Men, and his peevish daughter Judith, here an offstage member of the all-male troupe even though she says she doesn't like plays.

There are parallels to today's war on terror, with quarrels over the definition of torture and the fear of terrorism manipulated to bolster political fortunes. These parallels are emphasized by the use of modern language and costume designer Francis O'Connor's hybrid outfits, combining blue jeans and doublets. Things get even more confusing as Cain veers from a dark backstage comedy to "A Man for All Seasons" when a Catholic priest imprisoned for his part in the plot nobly faces the gallows rather than deny his faith.

Director Garry Hynes does her level best to steer this heavy vessel through choppy waters, but she is required to change course so many times, she can't avoid hitting the breakers. One of the main problems is John Pankow in the role of Shag. An amiable and dry comedian in recent works by Mamet and Durang, Pankow is uncomfortable and underpowered here. Yes, this version of the world's greatest dramatist is meant to be burnt out, but Pankow fails to suggest the blazing muse of fire that once lit the Bard's imagination.

Charlotte Parry can't make the sour Judith sympathetic, despite a game attempt. David Pittu, one of our ablest character actors, is a convincingly Richard III–like Cecil. David Furr has fiery fun as the volatile King James and the temperamental leading man Sharpe. Michael Countryman and Remy Auberjonois are solid in the remaining roles.

Unfortunately, the six-member cast and director Hynes come off best in the climactic scenes—the presentation of the Scottish play by the King's Men. When the high point of a show is an excerpt from another play, you know you're in trouble.


Presented by Manhattan Theatre Club at New York City Center Stage I, 131 W. 55th St., NYC. March 2–28. Tue., 7 p.m.; Wed.–Sat., 8 p.m.; Sat. and Sun., 2 p.m. (Additional performances Sun., March 7, 7 p.m., and Wed., March 10, 1 p.m.) (212) 581-1212 or www.nycitycenter.org. Casting by Nancy Piccione.