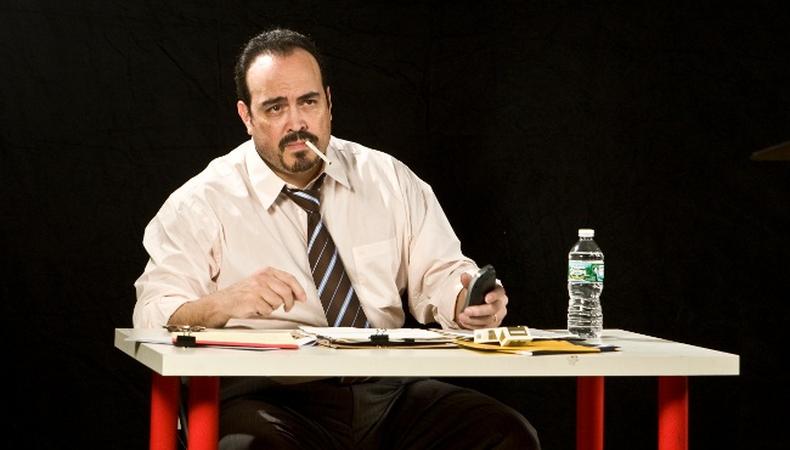 One of the best parts of fighting in the "trenches" of New York City's theater world, according to award-winning playwright-actor Eric Bogosian, is banding together on a project when one of your fellow fighters is struck with the fancy.
Last year, it was Bogosian who was struck with an idea: to compile a collection of all the monologues from shows he wrote and acted in, such as "Sex, Drugs, Rock & Roll," "Drinking in America," "Wake Up and Smell the Coffee," and "Pounding Nails in the Floor with My Forehead." When he tallied them up, including ones that never made it to the stage, he counted 100.
He published the book "100(monologues)" earlier this year through Theatre Communications Group Books. But Bogosian wanted to make the monologues, all of which he'd performed himself, even more accessible. It was during his biweekly poker games—where he plays against the likes of David Zayas ("Dexter"), Jeremy Sisto ("Suburgatory"), Liev Schreiber ("Ray Donovan"), and Dallas Roberts ("The Good Wife")—that another idea struck, and he threw more than cards on the table.
"I asked the guys, 'Would you ever try your hand at one of these [monologues]?' I don't know what possessed me to ask them that," he admits. "Honestly, I don't know what I was thinking—that I'd just grab a camera or a phone and videotape them doing it?" From there, the project to breathe new life into the monologues grew larger than he had ever planned.
He pulled in his filmmaker son, Travis Bogosian, and formed a small crew of about 20 to help him realize 100monologues.com. Among his crew is Drama Desk–nominated projection designer of Broadway's "All The Way" Shawn Sagady, with whom Bogosian designed the backdrop against which celebrated actors such as Richard Kind, Sam Rockwell, Michael Shannon, Jennifer Tilly, Craig "muMs" Grant, Jessica Hecht, Yul Vazquez, and others perform.
"I asked the actors about [commercializing the product]; they were like, 'That's not why we're doing it,' " says Bogosian. "The consensus was we want this to be free. We want everyone to be able to go there and get it and not have to pay for it…. I [also] didn't want anybody coming in and editing out the actors or putting the star names at the top of the list or anything like that—that's not what this is."
What it is for Bogosian is a stab at providing an additional resource for actors, many of whom are already being taught his work in theater programs across the country.
"It's great to do this stuff in course work, but it's also great to see what a really, really skilled actor can do with this material," he says, "because for a writer, an actor is a collaborator. They have to bring what they bring. They're not just trying to do what you wrote." The actors had their own takes on his work, "finding beats that I didn't even see were there."
Over the course of a year, the online presence of his monologues has grown with a new addition to the site each week. Bogosian says they've filmed 25 so far and are set to shoot more this fall, including performances by Ethan Hawke and Josh Hamilton. Much like the theater, 100monologues.com renews a sense of community.
"When I first showed up in New York in the '70s and I would go in for an audition, it seemed like all these actors all knew each other and I felt like a stranger and like a kid," he says. "I wondered what it would be like to someday walk into the hallway outside an audition and know people. And now it's like, if you've survived [the New York City theater scene] this long, you know everybody…. And there's a great deal of sympathy for each other because doing it is really hard work; it's a feeling like we're all in the trenches together."
Inspired by this post? Check out our audition listings!