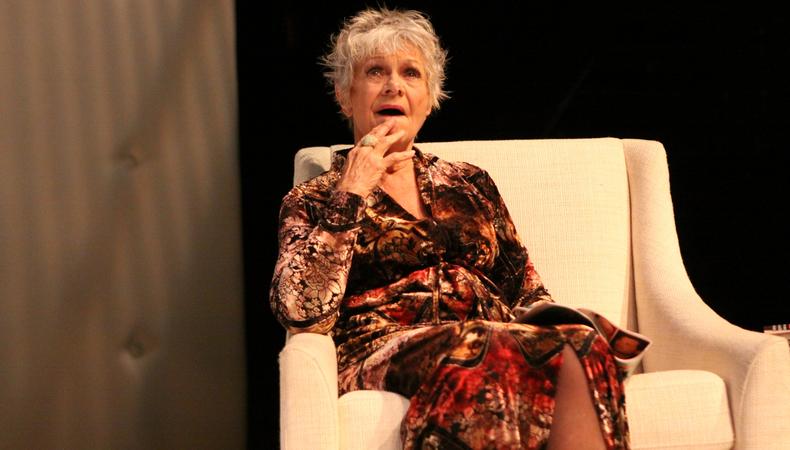 Gone is the ad-hoc weirdness that interestingly deformed nearly everything La MaMa has done since I've been reviewing theater in New York City (2005, admittedly, but frequently at the storied little East Village venue). "AdA" seems almost familiar, with one playwright (Neil LaBute) known to most theatergoing New Yorkers and another one (Marco Calvani) for foreign-theater buffs. The easy-to-swallow gimmick is that each directs the other's script. (The title is an acronym for the show's subtitle: "Author directing Author.")
The cast is wonderful. In Calvani's play, "Things of This World," Estelle Parsons plays a high-strung, overbearing mother in a style that should probably be codified and named after her, as no one else will ever be able to do it. Craig Bierko is her son (none of the characters have proper names), and he's been dressed perfectly by designer Katherine Roth to suggest a guy at the very end of his youth, a very narrow territory where Bierko nevertheless manages to find all kinds of variety.
In LaBute's offering, "Lovely Head," we have Larry Pine (also Parsons' apparent husband in Things of This World") as an extremely uncomfortable john named Gary and Gia Crovatin as Amber, the hooker (which apparently no one says anymore) he's hired for an hour. It's a deeply uncomfortable work, and Pine and Crovatin give nuanced performances as they try to feel each other out—figuratively, anyway, as the characters barely touch each other until the last moment.
The evening's problem is its central gimmick: Neither director knows what to make of his colleague's contribution. Thus the thematically dense "Things of This World" is all dialogue and meaningful looks as the political and social ideas go right over our heads. "Lovely Head" is played almost exclusively for sexual tension, but the punch line is that there isn't any such thing in the room. One gets the sense that both pieces, especially LaBute's, would have been improved had the writers been able to dig into the parts of their own scripts they found most interesting. "Lovely Head" is LaBute in a similar mode to "reasons to be pretty," and it's good. "Things of This World" is very Italian indeed, and I wish I knew more about it than I was able to glean from this production.
The hardest thing to understand about this double bill is what it's doing at La MaMa, where I've seen such oddities as Oedipus and Jocasta painting their genitals blue, a sequel to "The Cherry Orchard," and the Seamus Heaney translation of "Antigone" drawled in thick Southern accents. Paradoxically, the normalcy on display in "AdA" may be the strangest thing I've ever encountered there.
Presented by and at La MaMa E.T.C., 66 E. Fourth St., NYC. Oct. 5–14. Wed.–Sat., 7:30 p.m.; Sat. and Sun., 2:30 p.m. (212) 352-3101, (866) 811-4111, (212) 475-7710, www.theatermania.com, or www.lamama.org.
Critic's Score: B-