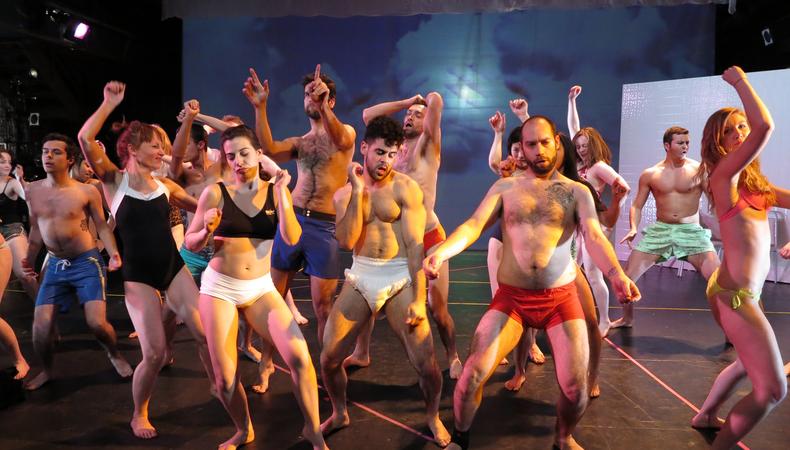 Witness Relocation's collage dance-theater has been compared to Richard Foreman, the Wooster Group, and John Cage: a list that follows the evolution of the experimental avant garde across the past century. Yet no matter what century you're in, one person's "experimental" has always been another person's "incomprehensible." The beauty of Charles Mee's latest work, "Eterniday," is how it rejoices in that ambiguity, revealing with a wink how its own randomness pales in comparison to the unpredictable way in which we all live.
"Eterniday" puts two disparate timespans on top of each other. The entirety of human history is condensed down to the course of one day: morning, afternoon, night, and dawn. Director-choreographer Dan Safer turns the abstract march of time into something tangible; he assigns each of these four periods a shape, mapping them onto the stage with tape and restricting all action within that area. As the day progresses we feel the playing space expand and contract, moving to the rhythms of time.
Besides making time physical, "Eterniday" also makes it personal. In an uncharacteristically straightforward plot, we see two players fall in love, a relationship obscured by a grab bag of seemingly unlinked stories and vignettes.
What does it all mean? The point, Mee suggests, is that we can't know. In one brief dialogue two members of the company look at clouds, parsing them out into shapes and characters. But as they take the perspective of the clouds themselves, the shapes become less clear, their identities less permanent: "I am entitled to fame and immortality," they say, "even as a shift in the breeze transforms me into nothingness." Everyone is living an incoherent narrative, unintelligible except to an outside author looking on.
The majority of Mee's play asks how we can connect with one another given this inherent randomness. Much of "Eterniday" was developed in rehearsal by Safer and Witness Relocation, using Mee's text as a blueprint. As the audience begins to file in, two members of the company are practicing a dance routine. It's informal and friendly but is also an intensely physical example of interpersonal alliances that return through the play. The general mood is raucous and explosive ("night" features a herd of mutant horse-humans under strobe lights, like a nightclub in a fantastical fever dream), but it's offset with projections by Kaz Phillips-Safer that present meditative passages from the 14th-century travelogue of Sir John Mandeville (read by a distinguished Carey Harrison).
"Eterniday" culminates with a birth and a dance party. For such an energetic production, a bikini-clad beach bash isn't an unexpected ending, but it seems a surprisingly unchallenging one given the questions Mee asks. But maybe we shouldn't be surprised anymore; this is, after all, the show that compares Sophocles to Rihanna. It celebrates the non sequitur, the random, the inexplicable. If we watch carefully, we can start to make connections, across time and space, with those people looking back at us.
Presented by and at La MaMa ETC, 66 E. Fourth St., NYC. April 4–21. (212) 352-3101, (866) 811-4111, (212) 475-7710, www.theatermania.com, or www.lamama.org.
Critic's Score: A-