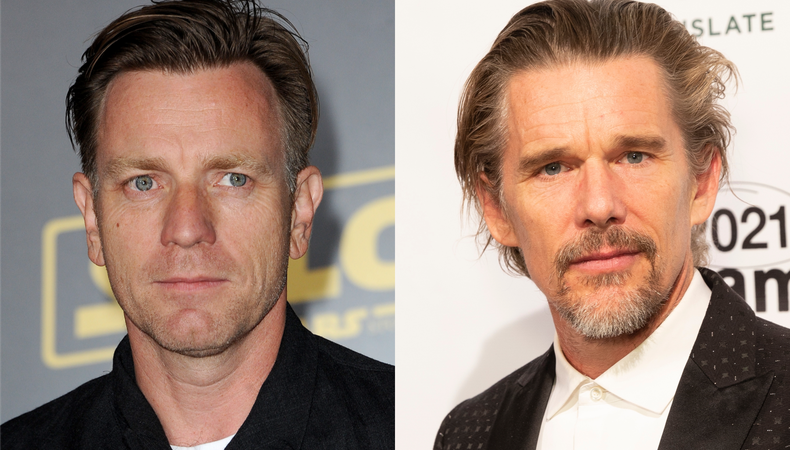 In the Envelope: The Actor's Podcast features in-depth conversations with today's most noteworthy actors and creators. Join host and senior editor Vinnie Mancuso for this guide to living the creative life from those who are doing it every day.
Combined, Ewan McGregor and Ethan Hawke have nearly 200 acting credits to their names—not to mention four Oscar nominations, seven SAG nods, and an Emmy win. But the pair never worked with each other until Rodrigo García's black comedy feature "Raymond & Ray," which hits Apple TV+ on October 21. The two veteran stars found not only a dynamic scene partner in each other, but also the type of collaborative creative experience that's key to a great performance.
On this episode of In the Envelope: The Actor's Podcast, McGregor and Hawke discuss what they've learned from their favorite directors, their ideal on-set experience, and why you shouldn't ask actors about finding chemistry with their co-stars.
McGregor and Hawke work well together, but don't like the idea of "chemistry."
Ewan McGregor: "I have a problem with the idea of chemistry, because I feel like it's a little disrespectful to the actors. It's a bit like: 'Oh, this magic thing happened, and they're both good in this film. We believe them to [have] the relationship they're supposed to [have] in this script.' I feel that comes out of good actors working together. It's not magic. I've loved some actors I've been in scenes with, and it works. I've also been in scenes with actors where we don't get on at all. And yet you wouldn't know in the movie, because we're both good actors."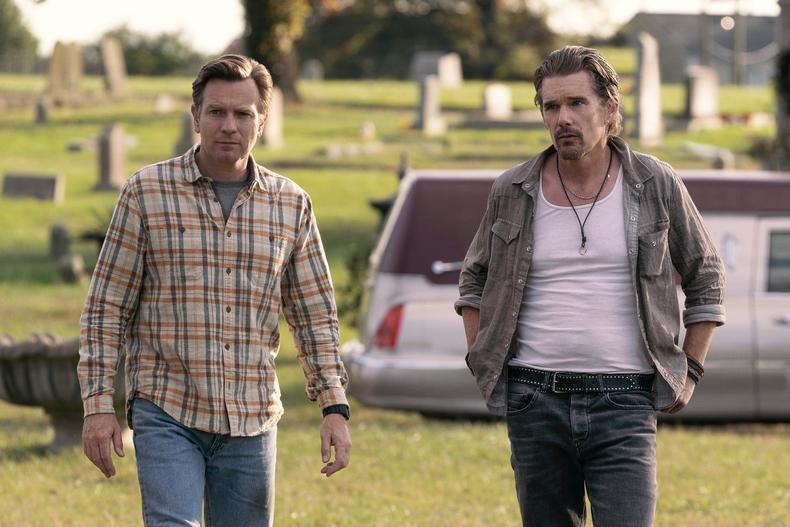 "Raymond & Ray" Courtesy of Apple TV+
Hawke learned a valuable lesson from one of his earliest directors while working on "Dead Poets Society."
Ethan Hawke: "Peter Weir really knew when a scene had peaked. It's a strange art form of just knowing like: OK, we're rehearsing. Now it's take one. Now it's take two. Now it's time to push it. Everyone is feeling safe and confident. I'm going to push the emotion here. And when it's peaked, [he knew] when to let it go. Some directors I've worked with are like, 'Listen, we got this. Take four was amazing.' So now I'm trying to get back there, and we're doing 17 takes and we've lost it. Other directors, they're moving on, and I know: One more take and we would have cracked it. The whip would have cracked, but we hadn't gotten it yet. They weren't letting it grow. That is like being a good coach or a gardener. You have to let things evolve. Peter Weir knew instinctually how to do that. It was probably until Richard Linklater [who has directed Hawke in nine films] before I met somebody else who understood the evolution of scene work, scene study, and scene play—[who understood] to let things be fine and not worry about them and when to say, 'No, we need this now.' "
Both actors believe in the power of a fully collaborative set.
EM: "As an actor, I hate not to feel like a member of the filmmaking team. My least happy experiences on a film are where you feel like the director and the DP are making the film and you're sort of being used to help them do that. But I've always felt like, as actors, we are filmmakers. Therefore I've learned to have an instinctive sense of camera and where the camera is and where it could be."
EH: "I feel the same exact way. In fact, it really bothers me that if you go to most film schools, they'll have a class on cinematography. They'll make the directors take a cinematography class; they have to be a cinematographer for this other director. But they very rarely teach acting. But if you look at the history of cinema, if you take anybody's list of their top 100 movies of all time, at least 20% of those movies are directed by actors. You're talking about Charlie Chaplin or Orson Welles or Warren Beatty or Robert Redford or Spike Lee. [Directing and acting] are both interpretive arts. They are extensions of translating writing to the screen."
Listen and subscribe to In the Envelope: The Actor's Podcast to hear our full conversation with McGregor and Hawke: