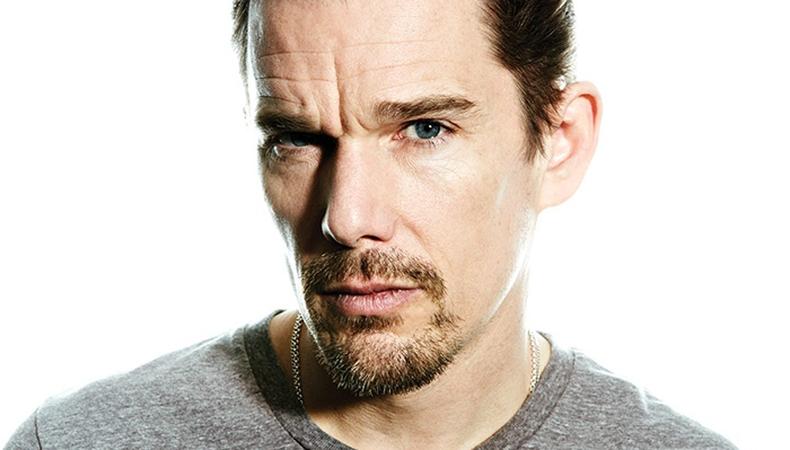 The first time they met, Julie Delpy could tell that Ethan Hawke wasn't a typical actor.
"He was much more creative than someone just there to say the lines," Delpy recalls of Hawke when they auditioned for "Before Sunrise." And she would know. Over the last 20 years, Delpy and Hawke have filmed (and co-written with director Richard Linklater) two sequels to "Before Sunrise": 2004's "Before Sunset" and now "Before Midnight," which made the festival rounds at Sundance and Tribeca this year and is out now in wide release. The films, which take place in real time, follow the French Céline and the American Jesse as they navigate an intense attraction to each other.
Hawke may not be what Delpy calls "typical," but his credits indicate that he is what one hopes an actor will be: someone who has made his own work, directs, writes, switches genres and mediums with ease, and constantly seeks out challenges. In the last 12 months, Hawke has starred in two Off-Broadway plays (one of which he directed), horror film "Sinister," romantic drama "Midnight," and thriller "The Purge," which opens June 7.
But he isn't interested in self-gratification or the movie star aesthetic, preferring to be a part of a thriving artistic community, which is why he pursues projects such as "Clive." The New Group's production of the play, directed by and starring Hawke, closed the night before this interview, and sitting on a couch in the photographer's studio post–photo shoot, Hawke reflects on the experience.
"If you can't do that kind of playfulness Off-Broadway, where is it you're supposed to do it?" he asks, reacting to the show's mixed critical reception. "All these actors want something for nothing," he adds of many artists' get-famous-fast mentality. "They lose sight of the true goal of being a part of a culture that expresses themselves—not being an individual that expresses him- or herself but being a part of a society that has a healthy consciousness."
Hawke's desire to put the work above all is why Delpy enjoys collaborating with him. "Everyone's better when everyone's good," Delpy says. "We really connected at that level right away because it was about making the best thing possible and not about our own personal gratification."
The writing process of the trilogy has found the trio at a computer, suggesting lines and shaping and molding the movie. Delpy wrote dialogue for Jesse, while Hawke suggested lines for Celine. He explains that the point is to strip the character of any perceived gender lens and make the people universally identifiable.
However, the improvisation ended with the writing. "We were never allowed to improv in front of the camera," says Hawke. "Rick has these meticulously designed, very slow tracking shots, but they're all timed. The movie is never going to be saved in the editing room."
One of the most memorable parts of "Midnight" occurs near the beginning, when Jesse and Céline are driving in what Linklater estimates to be an uninterrupted, 14-minute-long take. Hawke says that his ability to perform in the scene stemmed directly from his stage experience.
"I like to think that movies subsidize my theater career," Hawke says. "And then in other ways, I think theater keeps me in shape and turns me into the actor I want to be. I'm a much better actor in 'Before Midnight' because of my experience in theater. I've worked with a lot of accomplished screen actors that would not be able to do the shot that Rick wanted in the car."
Linklater calls him a "risk taker." The director first met Hawke, who had achieved fame in "Dead Poets Society," after a performance of a play produced by Malaparte, the theater company Hawke started in New York, which shuttered in 2000.
"We started a conversation then, and almost 19 years later that conversation is still going on," Linklater says with a laugh. He sent Hawke the script for "Sunrise," and even though Hawke was a newly minted It boy after "Reality Bites," he chose to go to Vienna and take a chance on the film.
"He willingly stepped out on a ledge for something that was going to be really, really difficult to pull off," Linklater says, adding that Hawke was already "full-formed" as an actor when they met. "That kind of shows you everything you need to know about Ethan's priorities. Ethan is just an unbelievable artist on every level. There's really no one else like him."
Hawke feels the same way about his collaboration with Delpy and Linklater. "It's unlike anything I've ever been involved in in any way, shape, or form," he says, coining the term "life project" when discussing the "Before" trilogy.
While he feels a sense of completion after "Midnight," he doesn't know yet whether there will be a fourth installment. What he does know is that he feels a certain inextricable connection to Jesse.
"Rick made us watch 'Before Sunrise' when we were working on 'Before Midnight,' and I was shocked at how close I felt to that person. I didn't feel like that was some me that lived eons ago," he says. "They're kind of like parallel lives."
But before—and if—he returns to Jesse's story, Hawke has some time to explore. Although he has achieved Hollywood fame and success, he still creates his own work.
"One of the hardest things about the life of an actor is waiting for people to give you jobs," says Hawke. "We all sometimes feel that we're as good as our opportunities. For me, it's always been about balance, about creating work for myself that is work that I really believe in, but also working on the brass tacks of the craft of acting."
When asked how he makes it work, he turns the question on its head.
"More the question would be, 'How do you not make it work as an actor?' " he says. "I saw, as a young person, a lot of actors in L.A. get really unhappy constantly waiting for work, constantly going to the gym, trying not to drink, living this kind of amorphous life. I've enjoyed being busy and putting myself in situations where I could learn things. Because if you're not busy, you don't learn much."
He admires the actors and artists who have taught him this lifestyle, including actor-director Austin Pendleton, Hawke's director in last season's Off-Broadway revival of Anton Chekhov's "Ivanov" and the man he calls "the only acting teacher I've ever had." Right now, he's particularly inspired by Vanessa Redgrave, whom he just saw "lay the gauntlet down for all actors in the city for how serious you are" in Off-Broadway's "The Revisionist." And whether in a 100-seat theater or a megaplex, Hawke wants to make the best art possible.
"The path of dedicating yourself to this kind of life can be a beautiful and a deeply rewarding one because it's about trying to figure out why we're alive," Hawke says. "And if you get connected to that part of the arts, it disconnects you a little bit from the superficial part. And it becomes a life worth living."