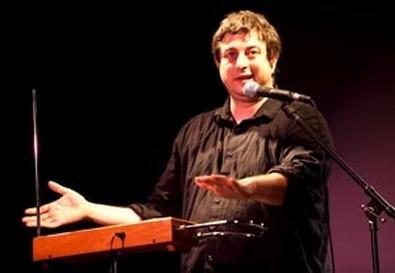 The Eugene Mirman Comedy Festival is a joke.

At least, that's how the annual event began four years ago, when Brooklyn-based standup comedian Eugene Mirman told fellow comics Mike Birbiglia and Julie Smith that it would be funny to name a comedy festival after himself because "it would be a ridiculous thing to do."

Yet Smith took him seriously enough that she recruited Caroline Creaghead, her intern at The Onion, to help them make it happen. Together they launched the first Eugene Mirman Comedy Festival in 2008.

Creaghead had no experience producing or promoting comedy events, but she soon discovered that with a name like Eugene Mirman, performers would line up to participate. "He possesses an extremely warm vibe," Creaghead says of Mirman, "and people just want to be around him, having fun. And that's what he loves, is just people having a good time. It's more about the experience that other people are having. That's been a magical thing about the festival—it's just like inviting people to a party."

Many of alternative comedy's icons and up-and-comers, such as Kristen Schaal, David Cross, Todd Barry, John Hodgman, Michael Showalter, Hannibal Buress, Janeane Garofalo, John Oliver, Jon Benjamin, and Reggie Watts, have since taken up residency at two Brooklyn venues, The Bell House and Union Hall, each year for a weekend in September. This year the lineup will also include John Mulaney, Kurt Braunohler, Tom Shillue, Jen Kirkman, Marc Maron, and many more.

Mirman and his cohorts understand and appreciate the unique symbiotic relationship between comedians and a live audience. Instead of focusing on becoming another exclusive setting for industry VIPs to discover and evaluate talent, the Mirman Festival is an inclusive event that simply seeks to entertain, by whatever means necessary. Mirman's silly, absurdist, and almost childlike sense of humor is evident throughout each year's programming, aided by the occasional sideshow spectacle, such as a dunk tank, a cotton candy machine, or a cookout.

"I always found it easier to start my own show than try to break into a club," Mirman says. "If you can put on your own show and promote it and people come, then you're still a comic. Our audiences are often very friendly. They won't laugh if something's not funny, but they'll also be patient. And so as a result, it's just really fun."

Some highlights of the 2011 Eugene Mirman Comedy Festival include "An Evening of Science," an opening-night event in which astrophysicist Neil deGrasse Tyson, the director of the American Museum of Natural History's Hayden Planetarium and frequent "Daily Show" guest, will host an episode of his radio show "StarTalk" with help from Mirman, Schaal, and other comics; "The Archer Variety Hour and Panel," featuring the cast and creators of the FX animated series "Archer;" and "The Talent Show Presents: The Drunk Show," during which performers including Hodgman, Kirkman, and "This American Life" host Ira Glass will base an improv comedy show around drinking games as they are forced to get drunk in front of the audience.

"Eugene has been really supportive of our show from the beginning," says Elna Baker, who co-hosts the monthly themed "Talent Show" with Kevin Townley at Littlefield in Brooklyn. "Because he liked the show, he asked us to do what we already do as part of the comedy festival. We've made him do some pretty ridiculous things, and he's always been a good sport about it."

To continue to expand the fest's offerings without raising ticket prices, Mirman, Creaghead, and Smith launched a fundraising campaign on Kickstarter that raised more than $18,000 this summer. Donations from nearly 250 fans, along with larger contributions from supporters Comedy Central and Sub Pop Records, made it possible to bring to life what Mirman calls "demented dreams," like a petting zoo and an "awkward party bus." "We have a fantasy of making an ice cream truck limousine," Mirman says, "but I think that maybe isn't possible."

"We wanted to take out a full-page ad in Variety to congratulate ourselves on the festival," Creaghead says, "to make fun of that trope of the industry congratulating themselves, or I guess their clients. Needless to say, it was a little cost prohibitive for a one-note joke. I sent Eugene the price, and he came back with 'Do they have a discount for people who are kidding?' "

Mirman admits that the joke is now on him, because "we do keep producing [the festival]. It's not like our goal is to one day be at Carnegie Hall. Our goal is just to do very fun, dumb things. And it's so dumb." He adds, "It's always dangerous to think of an ironic thing, and then keep doing it."

In addition to his successful solo career as a standup, Mirman has been integral in establishing a supportive community of comedians. He created and hosted several long-running New York comedy shows; toured with Patton Oswalt, Maria Bamford, and Marc Maron; and has been featured on television shows such as "Flight of the Conchords," "Bob's Burgers," and "The Colbert Report." Although it started as nothing more than a joke, his festival may be the purest example of Mirman's comedic sensibility, presented with a little help from his friends.

"I think that if you put in specific effort, you'll get out of it what you put into it," Mirman says. "Meaning, if I want to audition for movies and try to get certain kinds of roles, I can work on that, or I can tour doing standup, or I can put on a fake comedy festival where we have a caviar-eating contest. And that happens to be what I enjoy doing, so I'm just going to do that."

The Eugene Mirman Comedy Festival runs Sept. 15-18, 2011, at The Bell House and Union Hall in Brooklyn, N.Y. For more info and to purchase tickets, visit www.eugenemirman.com.