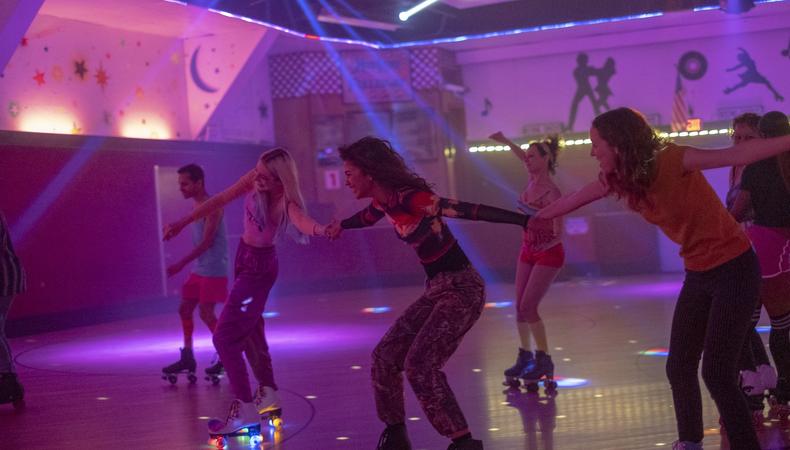 With this Year in Review, we at Backstage have picked through the weeds and found 2019's true gems of the best big- and small-screen ensemble work. And don't worry: We've got you covered with everything else you need to know this awards season right here.
Distributed by: HBO
Created by: Sam Levinson
Casting by: Jessica Kelly, Mary Vernieu
Main Cast: Maude Apatow, Angus Cloud, Eric Dane, Alexa Demie, Jacob Elordi, Barbie Ferreira, Nika King, Storm Reid, Hunter Schafer, Algee Smith, Sydney Sweeney, Zendaya
Though it may be a tough pill to swallow for those of us who were born before the new millennium, the kids of Generation Z are officially old enough to partake in the same sex, drugs, and alcohol-induced debauchery of the generations that came before it—and partake they do on HBO's "Euphoria."
The series was the instantaneous show of the summer when it debuted in June, perfectly suited for the sweltering hedonism of warmer months. Set in a decidedly unremarkable town filled with decidedly remarkable teenagers, the Sam Levinson–created drama employs every episode to showcase each character's respective demons, all of which are harrowing enough to render your own high school traumas on par with an afternoon at Disneyland. Ironically, that's most true of our protagonist Rue, played with magnificent sadness by former Disney Channel star Zendaya.
But there's nary a whiff of child actor pluck in this fully realized performance. Portraying an addict who's pushed herself so far past the line she can no longer even see it, Zendaya's physical and emotional agony becomes as much Rue's burden to bear as it is the audience's—until Jules comes along. "The OC" had Seth and Summer; "Gossip Girl" had Chuck and Blair; and "Euphoria" has Rue and Jules, the latter portrayed by acting newcomer Hunter Schafer.
Schafer, who is transgender, wields her inexperience on-camera like a weapon, imbuing her character with an outsider's tenderness so delicate it has the synesthetic feel of porcelain. And Schafer isn't the series' only acting newbie; cast with razor-like precision by Mary Vernieu and Jessica Kelly, the ensemble features an embarrassment of acting riches across the board, to the extent that anointing a standout is futile.
Alexa Demie turns the "femme fatale" archetype on its head by giving her Maddy exactly as much power as is constantly, simultaneously taken from her. Helming the storyline with the most potential for melodrama, she and Jacob Elordi as Nate torment and love and feud with one another, ensuring that soapy gratuity is subverted instead by the genuine horrors of first love.
Speaking of subversive, you won't see a character nor performance like Barbie Ferreira's Kat, who reclaims her body and femininity in ways that resonate specifically in 2019, which is almost—but not quite—a good thing. And Sydney Sweeney (who in 2018 met two gruesome ends on both "The Handmaid's Tale" and "Sharp Objects") is given her meatiest small-screen role yet as the wide-eyed, longing-to-be-longed-for Cassie.
Finally, Angus Cloud as drug-dealing burnout Fez gives what may be the most realistic television performance of all time, which he does with a total of about 100 words season-long. And while the hormone-addled teens are the primary focus of "Euphoria," a few adult actors deserve honorary mentions, including Eric Dane (Nate's father, who proves the apple doesn't fall far from the sinister tree) and Nika King as Rue's out-of-options mother.
While the series would have functioned wonderfully as a standalone eight-episode miniseries, it will be back for a second season. That's due largely to the actors' investment in these human beings—whom they and the show treat as such, despite their young age—making its return so welcome, even if it does so on a cloud of vape smoke.
This story originally appeared in the Nov. 13 issue of Backstage Magazine. Subscribe here.
Want more? Stay in the loop with everything you need to know this awards season right here!