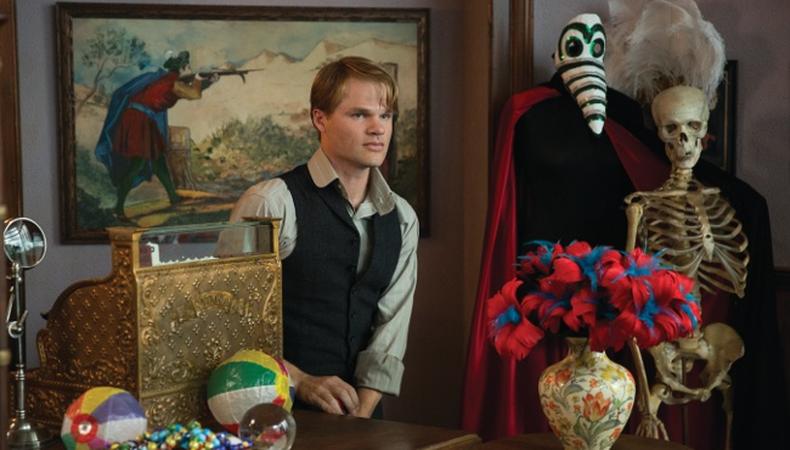 Evan Jones has been busy. After appearing in "A Million Ways to Die in the West," he can currently be seen opposite Adrien Brody in History's miniseries "Houdini," as the famed magician's assistant, before returning to theaters in Tommy Lee Jones' "The Homesman."
On taking chances.
"I went kind of crazy with the character [in 'Houdini'] for the audition and when they said they really liked it, I was shocked. And then got really excited that these people might get my interpretation! I wanted him to be kind of an idiot sidekick, but I had this underlying thing of he's an alcoholic and he has this dark side and this magician world completely saves him. That's what I went for and it seemed to work."
On making tough choices.
"I had another job and it was supposed to take six months, but I read the ['Houdini'] script and loved it and I thought, Agh, I want to go in and do this! And for a while it seemed that I'd be able to do both, but then we couldn't make it work and I had to choose and I said, 'I have to do "Houdini," I have to, it's too much fun!' And all of a sudden I was in Budapest, and I'm so glad I made that choice."
On preparing to play a magician's assistant.
"I went to the Magic Castle here in L.A., and I was amazed because all the tricks they're doing are based on things [Houdini] was doing. He is a god to magicians. And I went to another magic show in the Valley. They started out with a bunch of questions about Houdini, and I was the only one who knew everything. I won all these T-shirts!"
On the hardest part of "Houdini."
"I'm a worrywart, so the water torture cell and the hanging upside down, getting out of the straitjacket, was stressful for me. And we had all the safety people and the medical people [on set] and it worked out beautifully but [when I saw] the stunt guy in the water torture cell, upside down, I'd think, Oh my goodness. But I was supposed to be kind of freaked out. But other than that it was a lot of fun!
On filming in Budapest.
"It was very interesting. I'm terrible with my European history. And they were always on the losing side of wars. And each time they lost, they lost more men. And when they lost World War II, they were kind of given as a prize to Russia and Russia controlled them until the early '90s. And they're still very, very mad. And they do not have high expectations because everything will be crushed. Even the young kids. If you smile, they're like, 'You're so American.' But shooting there was perfect for 'Houdini'!"
Inspired by this post? Check out our audition listings!