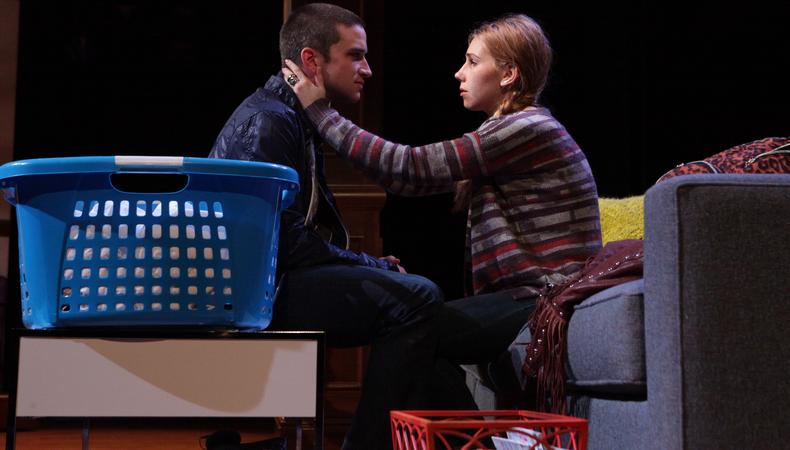 Some people may recognize Evan Jonigkeit without any clothes. That's because the actor is known for his controversial nude scene on Broadway in "High," opposite Kathleen Turner. But this almost-baseball-star-turned-actor happily assures us his clothes remain on in MCC Theater's "Really Really," which opens Off-Broadway Feb. 19 at the Lucille Lortel Theatre.
Directed by David Cromer, the play unleashes the brutal side of the college elite after a night of wild partying. Playing the trust-fund kid, Jimmy, Jonigkeit says it's a "real joy" to play a character that has a jarring transformation. Jonigkeit spoke with Backstage about how he found his theatrical bearings and his advice for aspiring actors.
Backstage: How do you pronounce your last name?
Evan Jonigkeit: John-a-kite. I know, it's a mouthful. It's a German name. It's a fun little anecdote that I get to throw out there when I walk into rehearsal rooms. Because everyone's like "How do you pronounce that?" It's John, and then I point up to the sky, the ceiling, and I say a kite. You know, it's a whole little shtick.
Backstage: How did you get cast in "Really Really?
Jonigkeit: It's interesting learning casting offices, because Bernard Telsey [also the artistic director of MCC Theater] is a casting guy in New York and so they actually have become one of the most, I don't know – loyal is not the right word I guess – but you need to earn people's trust and by earning people's trust, they'll continuously bring you in. They bring me in probably more often than any other casting company in the city for a lot of different projects, and they were casting this thing, and I had auditioned for Dave Cromer a number of times…I kind of got myself ready and just went in and did the audition just like I approach every audition, and I felt good about it and me and Cromer had a great talk about it and eventually I booked it.
Backstage: What's it like working with Zosia Mamet and Matt Lauria?
Jonigkeit: It's just about learning different people's perspectives about life and taking it into your character and developing the world of play and trusting the work. And, that's all you can ever do, and that's been the gift of working with these guys.
Backstage: This show has some nudity and fight scenes in it. Are you in any of those scenes?
Jonigkeit: No, no, I'm not. I was nude for two years. I was with "High." We did the Broadway tour and then in New York and then the post-Broadway national tour. I was nude for a part of show. So, this one is not my nudity; this is other people's nudity.
Backstage: What was it like getting nude in front audiences every night?
Jonigkeit: At first it was, obviously, a little uncomfortable, but everyone on the show was a pro. Eventually, I was just living the character and living the characters life and it just became another costume. You kind of are able to invest yourself in what's happening on the stage and not really concern yourself with what's outside of that and that kind of takes out all of the awkwardness in a way.
Backstage: I heard you were accepted to Temple University on a baseball scholarship. How did you choose acting?
Jonigkeit: I discovered I had tendinitis in both of my shoulders and that tendinitis would have taken me out for all of the first season of baseball at Temple and, at least, eluded my ability to throw a baseball as hard as I was able to after the fact…I decided that I was going to have to do something else, and the only other thing I'd ever done outside of baseball, that I enjoyed, was that I was in an improv comedy troupe in high school.
Backstage: What was your first audition like?
Jonigkeit: I think I auditioned for like some school musicals when I was younger, and I did some musicals when I was a little kid, but that was the extent of it. I never really had to audition for anything. I remember taking my first acting class with this guy named David Ingram and him teaching me how to approach an audition. I remember the first thing, it was this scene from the play "Icarus," and I remember that I was pretty deathly afraid of it.
Backstage: Do you have any advice for actors?
Jonigkeit: Stay curious and stay hungry. And feed every show and every audition like it's your first and just relax.
"Really Really" is playing at the Lucille Lortel Theatre, 121 Christopher St., NYC, with an official opening on Feb. 19. For more information, visit www.mcctheater.org.