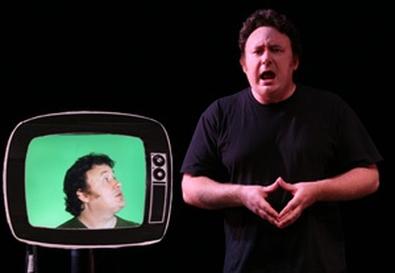 Every cliché of a Fringe Festival offering is on full display in "Evan O'Television in Double Negatives." Unfunny, boring one-person show? Check. Unappealing characters? Writer-director-performer Evan O'Sullivan generously gives us three, as the opener for his video-ventriloquism show is his "identical cousin," Seamus. A desperate attempt to pad out a 15-minute sketch into an hourlong show, preferably with a toothless political subplot? Check and check.
There's really very little to recommend O'Sullivan's conceit, which is that he interacts with himself via video. Gone are the technical requirements of traditional ventriloquism, replaced by the ability to remember when the taped pauses come in, which O'Sullivan doesn't really exhibit, as he frequently talks over himself.
Nor does O'Sullivan do anything interesting. The climax of "Evan O'Television" involves hypnotizing himself and then approaching an attractive woman in the audience with his pants around his ankles. At that point, one longs to turn the channel.
Presented by O'Television Productions as part of the New York International Fringe Festival
at the Here Arts Center, 145 Sixth Ave., NYC. Aug. 19–28. Remaining performance: Sat., Aug. 28, 7 p.m. (866) 468-7619 or www.fringenyc.org.