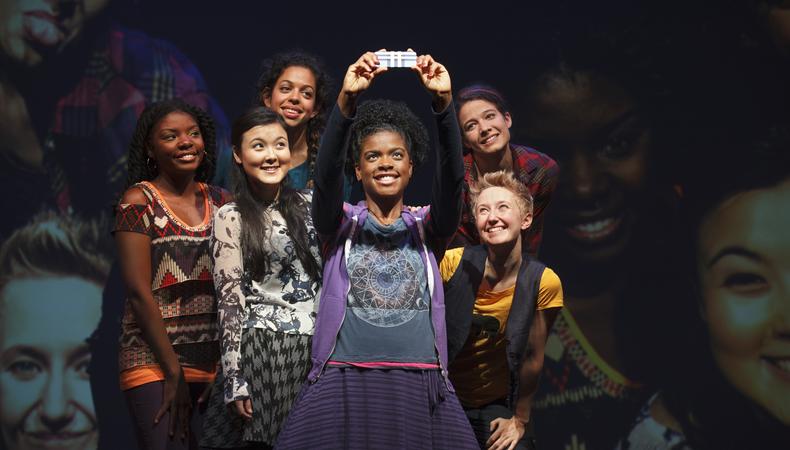 Welcome to girl world! Eve Ensler is back painting the town pink, not to mention the stage, which is decorated with fuchsia drapes and perky flower-power backdrops, just in case you weren't entirely certain that "Emotional Creature" is all about ladies, girls, dames, and and all sorts of women. Ensler, known for the groundbreaking "The Vagina Monologues," takes her lady love fest international, focusing on the struggles of adolescent women across the globe. Based on her best-selling book "I Am an Emotional Creature: The Secret Life of Girls Around the World," the collection of stories is powerful and poignant, and the tight-knit six-person ensemble boasts some breakout performances, though the free-for-all structure inhibits the work's thematic through line.
Ensler launches the play with a young girl taking self-portraits with her smartphone, trying to find the perfect Facebook picture. This idea of image and societal perception through social media and other channels permeates the piece, as image and acceptance are major issues faced by women of all ages. However, this nameless girl, played deliciously by Ashley Bryant, provides an unsteady connection to the other characters. There are segmented scenes interspersed among Ensler's powerful monologues and some goofy, peppy songs with tunes by music director Charl-Johan Lingenfelder, but there is no believable dramatic arc established.
The monologues and personal stories are the highlights, and the oddly placed scenes only distract from the heart of the matter. It's nice to see the actors interacting, but there is little dramatic fulfillment. Joaquina Kalukango elicits tears with her almost unlistenable tales of brutal rape and female circumcision. (If you don't cry, you have a heart of stone.) Olivia Oguma offers a lighter note in the hilariously touching tale of a young Chinese woman working in a Barbie factory, perpetuating the unrealistic image of perfection that poisons the minds of millions of young girls. Molly Carden embraces awkwardness admirably as she channels a young woman whose social mishaps in high school—certain to pave the way for her future success—seem like the end of the world. Sade Namei and Emily S. Grosland are valuable assets to the ensemble as well.
Ensler's writing strengths lie in her ability to unearth the universal in these personal, intimate stories. Yes, some of the subject matter is repetitive from "The Vagina Monologues," but focusing an international lens on adolescent women makes "Emotional Creature" relevant. Director Jo Bonney's broad concept camouflages some of Ensler's sincerity, and scenic and costume designer Myung Hee Cho puts the play in a fluorescent package that recalls a 1970s hippie commune. (I'm pretty sure there are several Lisa Frank folders peppered throughout the knickknacks amassed on the set, and that is an awesome touch.) Ultimately, no amount of showiness can detract from Ensler's message of acceptance and love, and no shade of pink can shout louder than her powerful words.
Presented by Carole Black and Pat Mitchell at the Pershing Square Signature Center's Romulus Linney Courtyard Theatre, 480 W. 42nd St., NYC. Nov. 12–Jan. 13. (212) 279-4200 or www.ticketcentral.com. Casting by Stephanie Klapper.
Critic's Score: B-