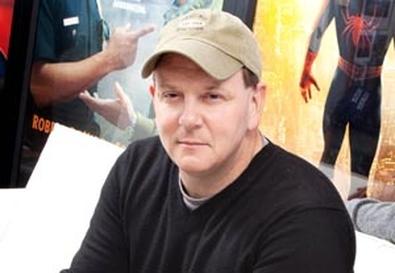 Al Gough didn't set out to be a writer, but his prolific partnership with Miles Millar has resulted in multiple movie scripts, a "Charlie's Angels" pilot, and the long-running "
Smallville
," which will have its series finale on May 13. "I always sort of thought I'd end up being a film producer and perhaps a director. Writing, frankly, was something that I kind of fell into," Gough explains. Gough met his British writing partner Millar in the
Peter Stark Producing Program at USC
. While in school, they partnered up and wrote a script that they sold to New Line, thus beginning their 18-year collaboration.
The two work together in a room—Millar on a laptop and Gough on a legal pad. "So there's no fighting for the keyboard," Gough jokes. "We've never worked separately. We're very much in sync and we both have strengths and weaknesses and blind spots that you can kind of compensate for." The writing ultimately led to Gough's originally intended line of producing—and now, directing.
They began their career with buddy comedies such as "Lethal Weapon 4" and "Shanghai Noon," but "Smallville" opened up another world for them—that of comic book–based properties. Gough says, "The idea of Superman in high school was something that really appealed to us.... A coming-of-age story that had sort of a big, fantastic hook to it."
The challenge was to reinterpret it for a new generation. They faced a similar dilemma with the pilot for the reboot of "Charlie's Angels." Says Gough, "Having the burden of the iconic brand behind you is a blessing in terms of marketing, obviously, and sometimes it can be a curse in terms of how you find a new creative ground to cover."
Initially, the team didn't want to develop "Charlie's Angels." They waited until they found a way to crack the show. Gough warns, "You can't do something because they are willing to pay you money. You always want to do projects that are creatively stimulating and are going to help you grow as an artist, because that's what's ultimately going to help you sustain a career."
"Smallville" received a put pilot commitment, providing more time for casting, which allowed them to do a much wider search. Casting directors were hired in New York; L.A.; Toronto; Vancouver, British Columbia; Sydney, Australia; and London with the intention of casting Clark Kent first. But when they saw tape of Kristin Kreuk, Gough says, "We were all blown away and, of course, the first question was, 'Has anyone else seen this girl?' And if not, make her deal immediately." She was the first hire and snared the role of Lana Lang, Clark's sweetheart.
Casting an Icon
Gough says casting an iconic character like Superman was a challenge because of popular preconceived ideas about his appearance, and they had to work within the likeness requirements of DC Comics. Gough says they liked Tom Welling's headshot, but the actor "didn't want to come in and 'put on a suit and be Superman.' So David Nutter [the pilot's director] called him, and he agreed to come in and read the script because we weren't sending the script out at that point. He read the script, loved the script, and then tested."
Another major challenge was casting Lex Luthor, Superman's archenemy. Gough says, "I think people have a certain image in their head of Gene Hackman from the movies. We were saying he's a young guy with a very rich father who's trying to prove himself in the world, who craves love. Michael Rosenbaum had actually come in months before and read, but had tanked the audition because he was sick. So when we were going back through, we were literally a week away from casting, we brought Michael back in and he redid his audition and really blew everybody away."
Gough has a lot of respect for the difficulties actors go through in the audition process. But he says actors should know that when they go into the room, everybody on the other side of the table is very interested and is rooting for them. "Because if you're great, you've solved all their problems," he says. But, he acknowledges, "It's tough when you're in the early rounds of those big cattle calls in terms of how to bust through the clutter of all the other people reading."
He encourages actors to memorize the sides so they can give some interpretation to them. "If you're coming in and you've half-read the scene, then you don't make an impression. [As a writer-producer,] you want somebody to come in and take what you've written and make it better. There's a couple lines [in the sides] which, if an actor can understand the interpretation of that line, nine times out of 10 they're going to get a callback. They're at least connecting to the material in a way that the majority of the other candidates you've seen aren't." He says he sees younger actors who "haven't quite read the sides, they're not really quite prepared, and they aren't taking it as seriously as they need to."
Distinct Voices
Creating unique characters is key to success, and Gough says writers should create distinct voices for each character, so their lines are not interchangeable. He notes, "I think that's the job of the writer, so that you've given the actor everything that they need on the page to then be able to go create a character and build a performance." Gough says he and Millar like when an actor can surprise them. "Then it says to us, 'Oh, there's something more to this character that perhaps we didn't see and that we can—and that they can—help bring that to the table.' "
Gough values the partnership between writers and actors. "Writers write it on the page, but actors have to actually bring the character to life and find the nuances and ask questions," he says. "You want to be able to articulate as a show creator and a show runner, 'Here's what the character is; here's where their journey is going.' Then the actor always has a lot of questions."
Millar and Gough sit in on rehearsals so the actors can ask all the questions they want. Gough says it's also important "to write to actors' strengths and away from their weaknesses." And the actors, especially young actors, grow over the course of a show. Gough says, "When Tom started, he really hadn't done anything, and you go back and you look at the pilot, he's pretty wooden—which, quite frankly, worked for the character of Clark Kent. But as he went through the show I can tell you he was the strongest actor on the set and he's since become a director and a producer."
Gough's acting advice is the same as his writing advice. "If you want to be a writer, you have to write. And stay interested in the world around you. Because if you aren't interested, you won't be interesting." And if you want to be an actor, act. "John Glover, who was Lionel Luthor on 'Smallville,' was an incredible role model. If he wasn't doing 'Smallville,' he was doing a play. He was still taking acting classes. If you're an actor, you have to constantly be honing your craft, whether it's in workshops or doing theater between auditions. If you love it and you want to get better at it, you just have to do it every day. Because there's a craft to it as well, and you really need to hone that craft. I think when you have that combination of raw talent with good craft, you can be unstoppable."
OUTTAKES
– Other films include "Spider-Man 2," "I Am Number Four," "Herbie Fully Loaded," and "The Mummy: Tomb of the Dragon Emperor"
– After graduating from the USC producing program, Gough and his partner Miles Millar formed their own production company, Millar/Gough Ink. The company has a first-look deal with Walt Disney Studios and produced "Hannah Montana: The Movie."
– Gough and Millar are currently writing and executive producing the feature "Upgrade" for Paramount, with Michael Bay producing.