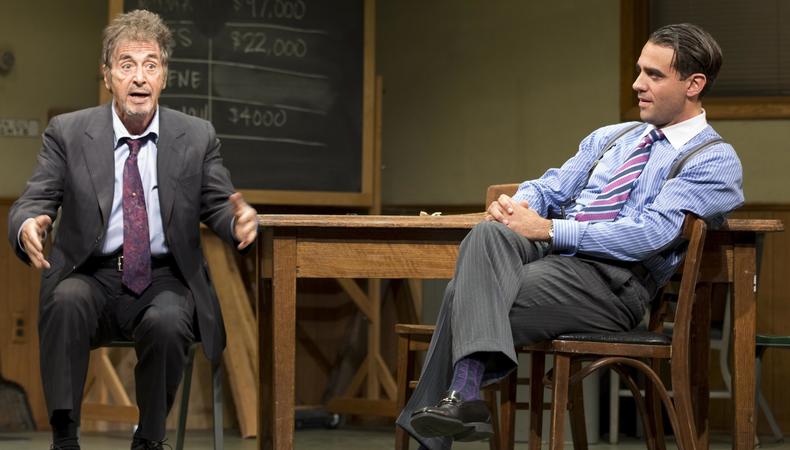 David Mamet's "Glengarry Glen Ross," winner of the 1984 Pulitzer Prize for drama, was on Broadway a mere seven years ago, in a terrific production directed by Joe Mantello and produced by Jeffrey Richards. So why has Richards brought the show back so soon? One has to assume it's the desire of star and Mamet vet Al Pacino to play Shelly Levene, the anxious-to-be-back-in-the-ring real estate salesman at the drama's center. In Daniel Sullivan's unevenly directed production, Pacino entertainingly holds the stage, winning laugh after laugh, but he makes a miscalculation fatal to the play's core.
Pacino's Levene really seems to believe the line he's handing David Harbour's uncomfortable office manager John Williamson in the opening scene: He's just suffering from a small streak of bad luck, not permanently off his game. But if Levene isn't trying to suppress his lack of self-confidence and its telltale desperation, it's not persuasive—spoiler alert—that Levene is feeling suicidal, driving him to the foolish choice of collaborating in a robbery of the real estate office where he works. And without that robbery, there's no play.
It doesn't help that Sullivan too often lets the pacing go slack in that crucial initial encounter. Fortunately, actor John C. McGinley, as the hard-charging Dave Moss, grabs the reins and snaps them to in the next scene as Moss tries to convince Richard Schiff's wonderfully shlumpy George Aaronow to team up with him for the aforementioned crime. Mamet's first-act series of attempted seductions is then capped by Bobby Cannavale's bravura delivery of smarmy alpha male Ricky Roma's sale of worthless Florida swampland to a complete stranger he targets in the tatty Chinese restaurant in which Act 1 is set. Though Cannavale has played variations on this character before, his Roma is the most memorable of them all.
Act 2 takes place in the burgled office during a police investigation, and it's here that "Glengarry Glen Ross" should come together with crackling, unstoppable force. It does, but not as satisfyingly as in the past, because the generally fine performances seem to exist for themselves, failing to coalesce into the tight ensemble work called for. Nevertheless, Jeremy Shamos is a symphony of pain as James Lingk, the swindled stranger who is there to get his money back, and Murphy Guyer is appropriately terse and tough as Baylen, the investigating detective.
Mamet's critique of capitalism—the system that formed these rapacious shysters and determines their behavior—is muted in this production, possibly in part due to Pacino's lighter playing. It's true that there have always been plenty of laughs in "Glengarry Glen Ross." Interestingly, they now come in different places. Back in 1984, audiences found Roma's extravagant homophobic slurs positively hysterical. They are, of course, accurate for character, but the reaction always made me wince. As a result, I admired the play more than I liked it. Now that said locutions are greeted with silence, I've become a bigger fan of Mamet's scorcher, even in this less-than-ideal incarnation.
Presented by Jeffrey Richards, Jerry Frankel, Jam Theatricals, Luigi and Rose Caiola, Gutterman Chernoff, Universal Pictures Stage Productions, Amy and Phil Mickelson, Patty Baker, Mark S. Golub and David S. Golub, Ken Greiner, Meg Herman, Kathleen K. Johnson, Stephanie P. McClelland, Harvey Weinstein, James Fuld Jr./Kirmser Ponturo Fund, Kit Seidel/Myla Lerner, Will Trice, and GFour Productions, in association with RPMedia Company, at the Gerald Schoenfeld Theatre, 236 W. 45th St., NYC. Dec. 8–Jan. 20. (212) 239-6200, (800) 432-7250, or www.telecharge.com. Casting by Telsey + Company/William Cantler.
Critic's Score: B-