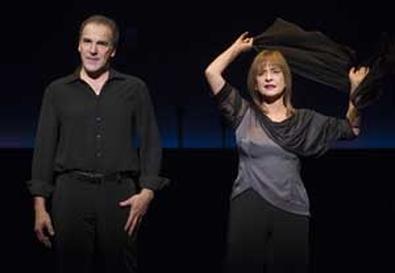 Like peanut butter and jelly, Patti LuPone and Mandy Patinkin are two great tastes that taste great together. Each is a one-of-a-kind talent: Patinkin with his extraordinary range and eccentric delivery that can switch from a delicate falsetto to an earth-rumbling bass without missing a beat, and LuPone with her powerful pipes, steamroller personality, and unique voice capable of approximating an entire brass section from trumpet to alto sax. When these two nonpareils combine, as they do in their concert at Broadway's Ethel Barrymore Theatre, simply titled "An Evening With Patti LuPone and Mandy Patinkin," you get not only a delicious theatrical sandwich, but also dramatic magic.
Unlike Hugh Jackman's equally thrilling but totally different show a few blocks away at the Broadhurst, this is no touchy-feely club act where the headliners drop their theatrical personae. Apart from Patinkin's brief anecdote about how they became Broadway stars in the American premiere of "Evita," LuPone and Patinkin stay in character, or should I say characters. The format, conceived by musical director Paul Ford and Patinkin, who also directs, consists of extended sequences and individual numbers, from musicals both classic and forgotten, blended together to tell stories of couples meeting, romancing, breaking apart, and reuniting. In another departure from the Jackman enterprise, instead of a full orchestra, the only musical accompaniment is provided by the versatile Ford at the piano and John Beal's supportive bass. Elaborate scenery and video are eschewed in favor of David Korins' simple set, consisting of a forest of standalone ghost lights, transformed by Eric Cornwell's sensitive lighting into a variety of settings, from a lush tropical island to a chilly New England waterfront.
The evening is bookended by those two locales, which are the settings for scenes from two Rodgers and Hammerstein classics: "South Pacific" and "Carousel." With the exception of Patinkin as Emile de Becque in "South Pacific," neither performer is the right age for any of these roles, but it's exciting to watch what they do with them and imagine these stars taking on a full production. They pour their full vocal and emotive powers into the pieces, evoking the push-pull of romantic attraction between opposites. I've never seen a better example of acting the intentions of a song, with each actor taking the objective in the dialogue and letting it lead him or her into the subtext of the musical portion. For a class in musical performance, you couldn't ask for two better instructors.
There are also hilarious comedy numbers. The "South Pacific" sequence seamlessly flows into a riotous rendition of "Getting Married Today," with LuPone as a nervous bride spritzing the first row with water and deliriously unraveling while rattling off Stephen Sondheim's complex, rapid-fire rhymes. That's just one example of the clever connections Patinkin and Ford have made. There's also a moving medley about a stifling suburban marriage, linking "Somewhere That's Green" from "Little Shop of Horrors" and "In Buddy's Eyes" from "Follies." The first act finishes with an unexpected and merry rendition of a rare gem, Murray Grand's satiric "April in Fairbanks" from "New Faces of 1956," performed on rolling chairs (Ann Reinking is listed as dance consultant and one assumes she is responsible for the cute choreography here).
The big guns are brought out near the top of Act 2, with the stars knocking the audience dead with their signature numbers, such as LuPone's overwhelming "Everything's Coming Up Roses" from "Gypsy," Patinkin's manic "Buddy's Blues" from "Follies," and their stunning solos from "Evita": "Don't Cry for Me Argentina" for LuPone and "Oh What a Circus" for Patinkin. To quote the Gershwins, who could ask for anything more?
Presented by Staci Levine, the Dodgers, Jon B. Platt, and Jessica R. Jenen at the Ethel Barrymore Theatre, 243 W. 47th St., NYC. Nov. 21–Jan. 13. Tue.–Sat., 8 p.m.; Wed. and Sat., 2 p.m.; Sun., 3 p.m. (No performances Tue., Nov. 22; Thu., Nov. 24; and Sun., Dec. 25, Jan. 1, and Jan. 8; additional performances Mon., Dec. 26 and Jan. 9, 8 p.m.) (212) 239-6200, (800) 432-7250, or www.telecharge.com.