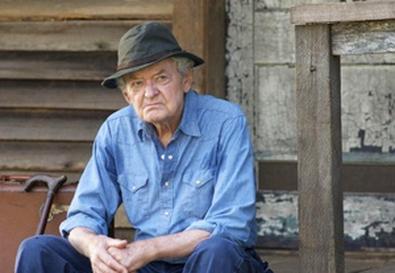 The 84-year-old Hal Holbrook shows how it's done in a this tour de force performance as an aging farmer who returns to his Tennessee home to reclaim what is rightfully his. Deliberately paced and shot with a love for the rolling pastures of the backwoods South, "That Evening Sun" is based on the William Gay short story "I Hate to See the Evening Sun Go Down" and centers on Abner Meecham (Holbrook), a widower relegated to an old-folks home by his lawyer son (Walton Goggins). But after escaping and returning to his farm, he discovers that his son has leased it to his archenemy Choat (Raymond McKinnon) and Choat's wife, Ludie (Carrie Preston), and daughter (Mia Wasikowska). In a stand of pure defiance, Abner moves into the rundown tenant shack on the property, adopts a loud barking dog, and refuses to leave until he gets his farm back. This not only sets up a major tension-filled relationship with the creepy Lonzo; it also causes conflict with Abner's son, who is concerned for his father's mental health.
The film, crisply written and directed by Scott Teems, largely consists of repeated confrontations between the new "neighbors" and the overwhelming loneliness of an old man nearing the end of his days and trying to live them out in dignity. We see Abner drift into dreamlike states, still mourning the loss of his beloved wife (played in flashbacks by Holbrook's real-life wife, Dixie Carter). Mostly, we see a once-proud man who has become of victim of living too long and a burden to those who just wish he would gently fade into the night.
Holbrook, the Emmy- and Tony-winning actor who earned a best supporting actor Oscar nomination in 2007 for his touching performance in Sean Penn's "Into the Wild," continues another surge in his film career with this commanding leading role. It's reminiscent of the late Richard Farnsworth's bravura turn in 1999's "The Straight Story" or Paul Muni's final bow in "The Last Angry Man" (1959), both deservedly Oscar-nominated. Holbrook has always been one of America's finest actors, whether in his signature stage production, "Mark Twain Tonight," or in landmark TV movies like "That Certain Summer" and "The Senator." Feature films have been a tougher nut to crack, so it's a pleasure to see him get a late-inning opportunity, even in self-distributed indie projects like this one. You simply cannot take your eyes off the screen when Holbrook is on it, and that's pretty much every scene. Abner's encounters with Choat are especially fine, and McKinnon rises to the occasion with an evil tone under every line. Wasikowska is lovely as the understanding daughter who befriends Abner, as is Preston, although she doesn't have as much to do as the others. Barry Corbin has nice moments as an old friend.
But it's Holbrook who keeps us engaged throughout. There is no question this is one of 2009's greatest performances, an Oscar-worthy turn in every way.
Genre: Drama
Written and directed by: Scott Teems
Starring: Hal Holbrook, Raymond McKinnon, Mia Wasikowska, Carrie Preston, Barry Corbin, Dixie Carter