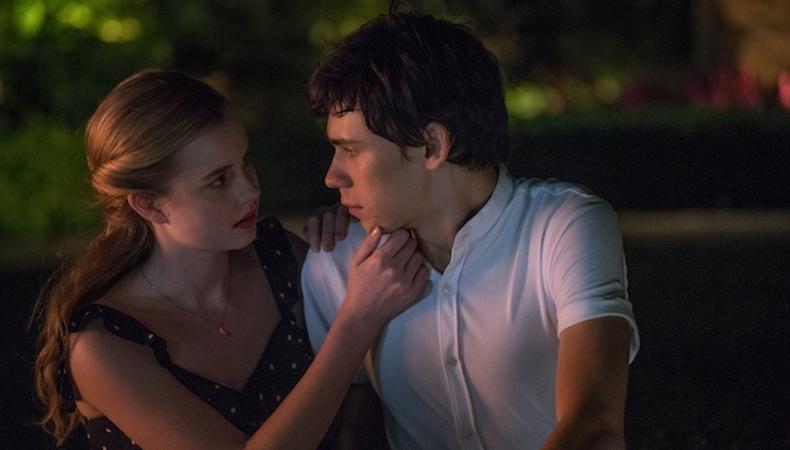 Australian actor Angourie Rice's career is already transcontinental. At only 17, she has forged a path for herself on Australian and American screens alike, most recently appearing in last summer's "Spider-Man: Homecoming" and Sofia Coppola's "The Beguiled" after breaking out in 2016 with "The Nice Guys." Now, Rice is the young leading lady in "Every Day," the science fiction–tinged teen romance based on David Levithan's Y.A. novel of the same name. She plays Rhiannon, a teenager who falls in love with a spirit named "A" who inexplicably wakes up in another teen's body every single morning. Rice stopped by Backstage HQ this week to chat with us about why "Every Day" is more than just a love story and to offer advice to other young actors getting their start.
The unique premise to "Every Day" allowed Rice to chart Rhiannon's unexpected growth.
"I think it's a really important story. It is a love story, but it's a love story that incorporates so many themes that are important today. My character Rhiannon, she learns [to grow], and I think that's really important. Sometimes, the best thing to do is just to sit down and listen to another person's experience, and listen how they express themselves and want to be seen by others."
Working on "The Beguiled" was also a dream.
"That film was incredible to work on. It was such a great environment just to be on set. Everyone was very kind and very calm. It was very welcoming and there was a real sense of community. I think I learnt so much just from being there, just from watching these incredible women work. Seeing the film was so amazing. I loved it, I truly did. I would have loved it even if I wasn't a part of the process of making it. I think it's a brilliant story and I think Sofia told it so well."
Auditioning is never easy, even for established actors.
"For me, the audition is always the hardest part of the whole process. Once you get on set, once you're in costume, you're with the director, it's so much easier to get in the headspace. Auditions are always the most difficult for me."
But the right clothes can help you find a character even when you're nervous.
"A big way that I express myself is through what I wear, and how I present myself. I think that's an important part of the characters that I play. With Rhiannon, she was a typical American teenager. You can kind of see throughout the film how her outfits sort of change with how she's feeling. I think costumes really symbolize how your character is feeling."
Remember to do some self-reflection and stay grounded through the highs and lows.
"I see certain girls get the roles that I auditioned for, and I think 'Oh, that's so annoying, I should have gotten that role!' But then I have to stop myself and actually think, 'No, she got it for a reason. She worked hard for it, and she was right for the role.' It's something I struggle with, and I'm sure all actors struggle with, and that's taking a step back and saying, 'That role wasn't right for me, and other opportunities will come my way.' You've got to put the effort in and stay grounded."
If you're just starting out, get your feet wet wherever you can.
"I never did acting classes. I got into doing short films for [university] students. When I was doing it, I would maybe do a small audition, but it wasn't incredibly competitive. I think that's the best thing: to just jump into it and just do it. If you want to do training, that's great, and you should do that. But I never did, and I just sort of jumped into it. There's no better way for me to learn. You learn as you go along."
Want to hear more from Rice? Watch her full Backstage Live interview here.
Ready for film work? Check out Backstage's film audition listings!