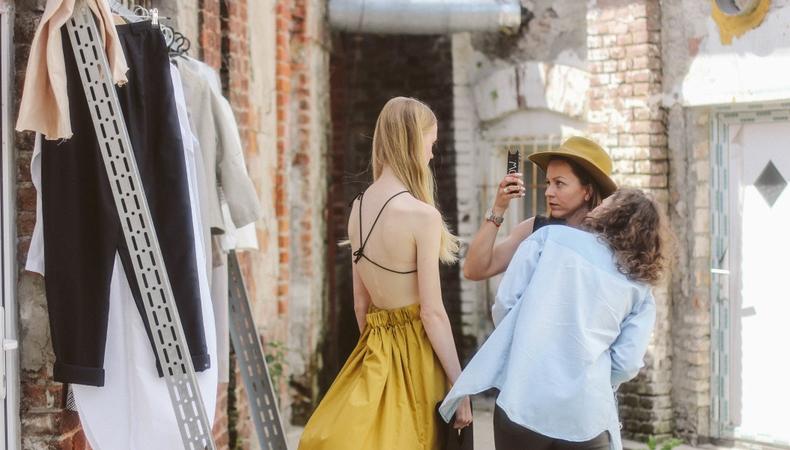 I remember as a child, I was always curious about how the arts "worked." I wanted to know how someone became a movie star or booked massive arenas to perform their music or how they became the star of a high-fashion clothing brand. I'd heard about agents and whatnot, but it was still all so elusive to me.
Now, having spent some time in the modeling industry, I've seen what the casting process is like and want to share my experience and perspective. If you're new to modeling, here's a primer on what to expect when it comes to casting.
What are castings?
Castings are like mini auditions. An agency will receive a request from a brand to see certain models, and the agency then sends those models to a location where the models and client can meet.
Most castings are quite similar: The model meets the client, the client may request to see your portfolio and will often times take your "card," the model equivalent of a headshot that features a few photos and your important measurements and details.
READ: 2 Ways to Get Your Modeling Career Started
How do I prepare for castings?
At every casting, it's important to show up as a professional. Have everything you need (enough cards, excellent portfolio, latest pictures) and make sure you look good. Women will often need to bring a pair of high heels with them. Guys have it easier—they just need to show up.
What are castings like?
In my opinion, there are two types of castings: big brands vs. up-and-coming brands. Up-and-comers are much less intimidating than the established, high-fashion brands.
One personal experience of mine for an established brand is when I went in for Tom Ford. The casting lasted over the course of a few days: they started by seeing a few hundred people the first day and then narrowed it down to a smaller group. This went on for several days, with casting meeting the group to further narrow it down each day. Then we went into the fitting stage where we were given a variety of pieces from the line to try on. After about a week, I was confirmed for the show and campaign.
Lesser-known brands are much less intense and are usually quick and easy. Most will see the model three times: Once for the initial casting, then a callback for a fitting, and maybe a third to make sure the clothes fit before booking you for their show.
Anything else I should keep in mind?
Castings can last anywhere from five minutes to three hours, and they can be draining.

It's important not to take anything personally.

Remember to be yourself, don't put out anything too fake; casting directors can smell that stuff from a mile away.

Most castings are set up through the client and the agency, but it's possible to freelance as a model and set up your own castings.

Casting directors want to see someone who can play the character of their clothing brand. Much like an actor, a model needs to be able to identify that character and pull it out of themselves, all while maintaining a certain authenticity that all the greats have.
Get all of your modeling questions answered by peers and experts on the Backstage Community forums!
The views expressed in this article are solely that of the individual(s) providing them,
and do not necessarily reflect the opinions of Backstage or its staff.