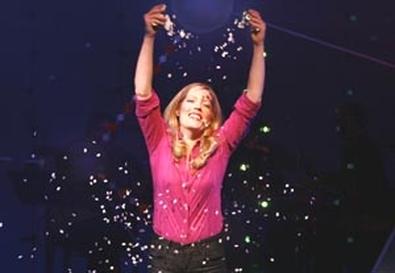 The world was created for Sherie Rene Scott. This is one of the options presented by
Everyday Rapture
, her one-woman autobiographical show—which is neither strictly one-woman nor strictly autobiographical. The other option is that Scott is a speck of dust. After 90 minutes of watching this droll and devastating blond bombshell, "speck of dust" doesn't seem like a serious possibility.
Scott, as she reminds us in her disarming deadpan, has played the "second lead" in several Broadway shows. Her ditzy, late-awakening Amneris was the best thing about Disney's
Aida
, her vaudevillian Ursula was a bright spot in Disney's dingy
The Little Mermaid
(Disney really should put her on retainer), and in
Dirty Rotten Scoundrels
she did perhaps her best work to date as a deceptively doelike American abroad. This is the first time, though, I've seen her full, dazzling range of tools. Vain and vulnerable, silly and sexy, wistful and wise, she's a mess of contradictions as riveting as Bernadette, Patti, or any of those divas who don't need three names but just one.
The evening's theme is the aforementioned struggle between being the center of the universe and an insignificant dot. It's a simple enough framing device, supporting a loosely guided tour through Scott's psyche and five stories that cover, among other things, her half-Mennonite Kansas upbringing, her
rumspringa
(a period of abandon when an adolescent chooses between religious and secular life; Scott says hers has been going on 27 years), and a recent experience at her country house (she "worked very hard for every dime of her husband's family's money").
Lest you worry that Scott's silver voice is given short shrift, she sings frequently and joyously, her burnished sound backed by Lindsay Mendez and Betsy Wolfe ("the Mennonettes") as she delivers powerful renditions of the Band's "The Weight" and several tunes from
Mister Rogers' Neighborhood
(jazzily yet poignantly arranged by
Next to Normal
composer Tom Kitt).
The top-notch production boasts a wonderfully whacked-out set that looks like the
Star Trek
variety hour. Designed by Christine Jones and lit with Kevin Adams' increasingly familiar onstage instruments, it's cosmic and dippy and charming. Michael Mayer's direction and Michelle Lynch's choreography lend polish but keep the evening appropriately intimate.
Occasionally the script founders in its handling of serious topics such as AIDS and abortion. But even when the segues—or lack thereof—make these bittersweet moments bumpy, the writing and playing remain heartfelt. The road soon smoothes out again, leading us to wildly entertaining sequences like Scott's interaction with a queeny teen who posts YouTube videos of himself lip-synching to original-cast albums. Eamon Foley, late of
13
, is delicious fun in the role.
It is, admittedly, a bit depressing to think that a talent like Scott had to write the role of her career herself (with
Thoroughly Modern Millie
librettist Dick Scanlan) and that the role is…herself. Still, if a girl makes her own luck, everything should be coming up four-leaf clovers for Scott from now on.
Presented by and at Second Stage Theatre, 307 W. 43rd St
.,
NYC. May 3
–
June 14. Tue
.,
7 p.m
.;
Wed
.–
Sat
.,
8 p.m
.;
Wed. and Sat
.,
2 p.m
.;
Sun
.,
3 p.m
. (
212
)
889-4300 or www.secondstagetheatre.com. Casting by Melcap Casting
.