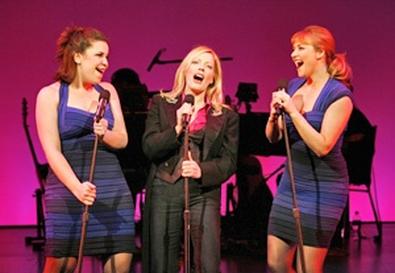 Do we really need another revealing performance memoir with the subject treating the stage as a couch and the audience as a psychiatrist? They usually follow the basic pattern of the performer whining, "My childhood was so screwed up, and I never got the attention or love I really needed; that's why I started acting"—or singing or writing or designing dresses or whatever. Well, we can use one more theatrical autobiography if it's as funny, quirky, and offbeat as Sherie Rene Scott's "Everyday Rapture," now in a Broadway transfer after a hit run at Second Stage last year.

This cabaret-style show, which fills in the end-of-season slot at Roundabout Theatre Company after the revival of "Lips Together, Teeth Apart" was indefinitely postponed, breaks all the one-person-show rules. There's more than one actor in the cast; the witty script, by Scott and Dick Scanlan, doesn't follow a clear chronological line; and Scott wisely avoids playing all the other characters in her story. That tale traces Scott's journey from a repressive Mennonite upbringing in Topeka, Kan. to "numerous second leads in Broadway musicals." Employing a dry, ironic tone, Scott is not afraid to include herself among her satiric targets as she skewers the narrow fundamentalism of her hometown, the pain of being a misfit in high school, and the obsessions of musical theater fanatics.

The strong, clear voice and off-center sense of humor that informed her standout performances in "Aida," "Dirty Rotten Scoundrels," and "The Little Mermaid" are on full display as she makes connections among her girlhood love of Judy Garland, an identification with the simple yet sincere musical messages of TV host Mister Rogers, an affair with a young magician, and a frustrating email exchange with a teenage fan whose lip-synching imitation of her on YouTube turns into a source of insecurity. The common thread through all these funny and telling sequences is Scott's quest to choose between conflicting philosophies represented by two slips of paper she carries in her pants pockets. One reads, "You are a speck of dust"; the other says, "The universe was made for you." Her religious background points to the former, her talent and spirit drive her to the latter.

As previously noted, this is not a one-woman show. Lindsay Mendez and Betsy Wolfe provide snazzy backup vocals and Supremes-style moves, courtesy of Michele Lynch's choreography. Eamon Foley is an outlandish delight as the energetic YouTube poster. Director Michael Mayer gives the 90-minute show the same combination of intensity and precision he brought to "American Idiot" and "Spring Awakening." Christine Jones' twinkling-star set is illuminated by Kevin Adams' flashy lighting and Darrel Maloney's clever projection design.

Thanks to Scott's insightful self-examination, razzle-dazzle showmanship, and dynamite vocals, this is a satisfying and enjoyable way to end the 2009-10 Broadway season.


Presented by Roundabout Theatre Company at the American Airlines Theatre, 227 W. 42nd St., NYC. April 29–July 11. Tue.–Sat., 8 p.m.; Wed., Sat., and Sun., 2 p.m. (212) 719-1300 or www.roundabouttheatre.org. Original casting by MelCap Casting; additional casting by Jim Carnahan.