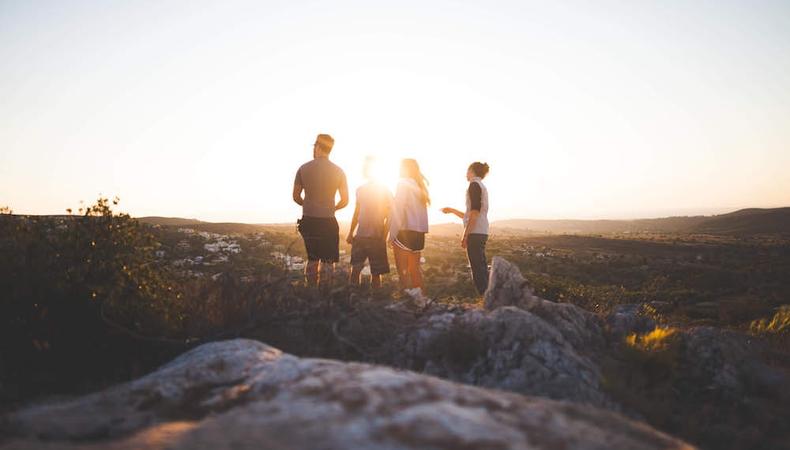 Whether you're prepping for fresh headshots or have a string of auditions coming up, we want you to look and feel your very best. Luckily, Atlanta has a lot to offer this week that will help you accomplish both just in time for the busy shooting season ahead!
Take a hike.
Atlanta is a treasure trove of great hiking trails. You've probably already conquered the Beltline once or twice, but a visit to nearby Arabia Mountain is worth the extra 15-minute drive. With majestic mountaintops and sublime views, you won't even realize you're burning calories. There's even an animal rescue center where you can get up close and personal with the park watch owl, Owlbert Einstein. (Admission is free but donations are accepted)
Move it side to side in EAV.
Dance 411 is Atlanta's top-rated dance studio and with over 30 classes each week, there's no excuse not to try it out. Newcomers are even welcome to test classes out for only $15 (and if pole dancing is your thing, they offer a special grown-ups-only series). (Classes start at $15 for new students)
Laugh out loud.
They say laughter is the best medicine. If that's true, you'll be the healthiest person you know thanks to the Laughing Skull Comedy Festival, Atlanta's most celebrated comedy event. Founded by comedy veteran Marshall Chiles, the festival features comedians from around the world performing from May 1-8. Tickets sell out fast so be sure to get them before they disappear. (Tickets: $10-$28 in advance)
Enjoy a play in a language that (maybe) isn't native to you.
"Pais de Bicicleta" by Pulitzer Prize-winning playwright Nilo Cruz comes to Lawrenceville's Aurora Theatre this month. Performed in Spanish with English subtitles, the play presents the tale of three Cuban refugees who flee to the American coast. (Tickets: $20)
Jog your memory.
If it's been awhile since your last acting class, Pinch 'N' Ouch Theatre's upcoming Meisner Foundation for Acting Class is a great opportunity to get back at it. Taught by Grant McGowen, the critically-acclaimed founder and producing artistic director of the theater, the class kicks off May 13 but is taking registration now. Trust your instincts and sign up: McGowen's former students can currently be seen on "Stranger Things" and "The Walking Dead." ($450 for 12 weeks)
Are you looking for work as an Atlanta-area actor? Check out our Atlanta audition listings!