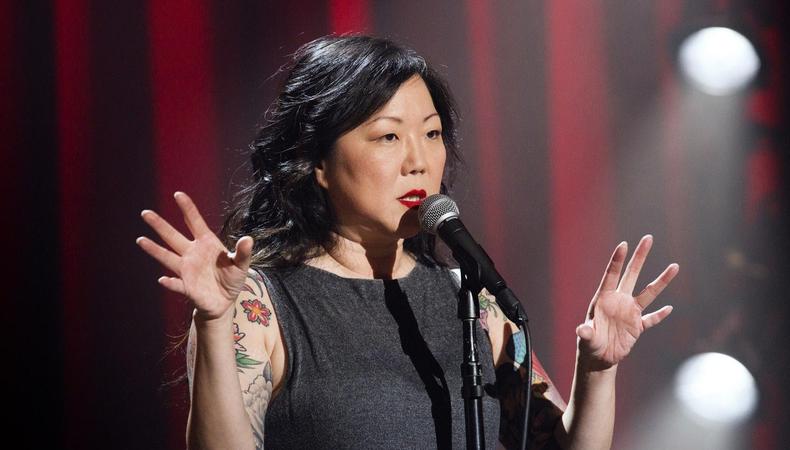 Comedians of Los Angeles: make sure you start 2018 off on the right (funny) foot with a mix of events, performances, and opportunities around the city this January.
PERFORMANCES
If your 2018 resolution is to see more stand-up comedy, check out this performance at The Comedy Store on Jan. 4. The lineup includes Margaret Cho, Pete Holmes, Tom Segura, Skyler Stone, and more. (Tickets start at $20)
If you haven't yet seen The Black Version, the completely improvised show that started at The Groundlings in 2010, now's your chance. They'll be performing at Largo on Jan. 6 at 8:30 p.m. The show begins when the director asks the audience to suggest a popular film title and then the cast improvises the "black version" of that film. (Tickets: $30)
If sketch is more your jam, Atlantic City at UCB Franklin is a monthly showcase of characters and sketch from some of L.A.'s best comedians, including Natalie Palamides, Betsy Sodaro, and Drew Tarver. The next show is Jan. 11 at 8 p.m.
Live Rude Girls is an all-female comedy team at Second City Hollywood that tackles topics like body shaming and street harassment in this satirical view on the female experience. They have shows on Jan. 12, 19, and 26 at 9:30 p.m.
For something a little different, check out The Story Collider at the Lyric Hyperion on Jan. 25. In this storytelling show, performers share true personal stories about science. You'll hear from scientists about all the times things went wrong—and occasionally right—in their labs, but you'll also hear from people who haven't had a formal connection to science since high school. (Tickets: $10)
EVENTS
Time Out Los Angeles is hosting a night of comedy on Jan. 17 to celebrate the release of their comedians to watch in 2018 with comedians taking the stage for a live performance. (Tickets: $20)
CASTING CALLS
A comedic one-act play is seeking a female aged 30-55 for its lead role when "Formula 3" makes it return to the North Hollywood Art District in February. Rehearsals will begin in early January. Submit for this role here.
A digital game show series is seeking three comedic hosts. The hosts will need to think quickly on their feet and be comfortable talking to contestants. Must have previous hosting experience. Improv skills are a plus. The show will film sometime between February-April and pays $750/day.
The Westchester Playhouse is holding open casting calls on Jan. 13 and 14 for a variety of roles for its upcoming run of "Sister Act," the musical comedy based on the 1992 film. Find out more information here.
CLASSES
The Stand Up Comedy Clinic is offering a Level I & II class beginning Jan. 23 for $395. The class meets Tuesday nights from 7-10:30 p.m. in Burbank. To learn more about the class or to sign up, click here.
The Pack Theater is kicking off 2018 by offering new Level I improv classes. In this class, you'll learn about all four basic scene types and how to navigate each of them. Brian James O'Connell, a working actor with years of experience, teaches the class. The class runs for eight weeks and is $310.
If you're interested in honing your sketch writing skills, check out UCB's Sketch 101 class. You'll be introduced to the basics of writing comedic sketches, including writing in different formats and finding the game of your sketch. The class runs for eight weeks and no prior experience is needed to sign up. There are still a few different class times left, so sign up here.
Check out Backstage's comedy audition listings!