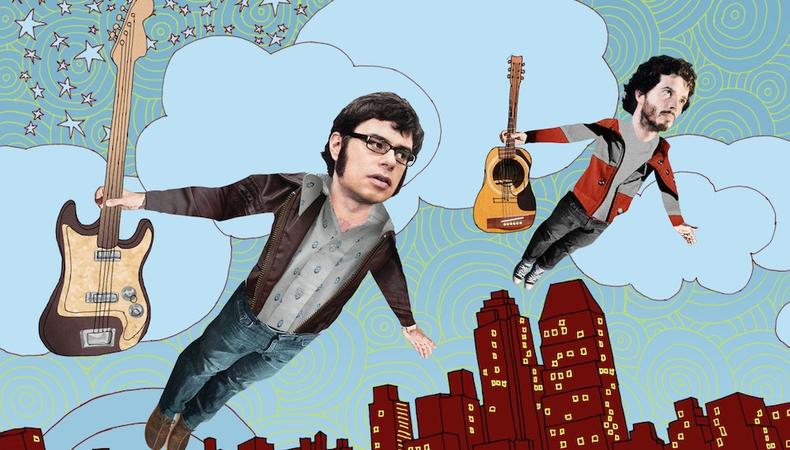 Fear not, laughter chasers, we've hunted high and low for the U.K.'s top gigs, classes, events, and stand-up nights to bring a little joy to March.
OPEN MIC
Head up to North London for The Freedom Fridge open mic night on Thursday evenings. (You have to bring a guest to get a spot.) Improv and double acts welcome. Email thefreedomfridge@gmail.com for information.
Every Monday night is the Laughing Horse comedy stand up at the Savoy Tup in WC2. Email info@laughinghorse.co.uk for info and a spot. Tickets are £5 at the door.
Looking for an open mic night in east London? Cockney Comedy offers five-minute spots that are bookable via their Facebook page. Get to it!
GIGS + EVENTS
Hitting the Hackney Picturehouse Cinema on March 10 and 17 is the Worldwide Comedy Short Film Festival, showcasing the world's top best up and coming comedy filmmaking talents. (Tickets start at £5)
The Glasgow International Comedy Festival kicks off its biggest programme ever on March 8. 500 shows, 54 venues, and over 103,000 tickets on sale for top comics like Katherine Ryan, Rob Delaney, Ed Byrne, Alexei Sayle and Tommy Tiernan. Go Scotland!
Why not start March with You (Still) Can't Say That! The Big Pen Comedy Gig, featuring big comedy names like Kevin Eldon, John Hegley, Pippa Evans, and Robin Ince. All this and it's for a charity supporting writers and journalists around the world. (Tickets: £25)
OPPORTUNITIES
Got a sitcom gestating inside your brain just waiting to burst out? Maybe seven weeks of the First Draft Sitcom Writersroom can help. You'll get weeks of advice from a professional scriptwriter and support from your fellow newbies on this course designed to kick-start your comedy writing career. (£199 for seven weeks)
The well respected 'So You Think You Are Funny?' competition is branching out into sketch comedy. Sketch troupes must have seven minutes of original material and heats will be held later in the year. Apply now.
The BBC is on the lookout for topical gags once again as the 17th series of their hit radio comedy, 'Newsjack', returns. A tried and tested route for budding comedy writers.
NOW TOURING
Touring throughout March is Geordie comedienne and feminist icon Sarah Millican. Her 'Control Enthusiast' show promises warmth and laughs aplenty!
Fans have waited for over seven years but now finally they're being rewarded by a U.K. tour from cult Kiwi comedy duo 'Flight of the Conchords' throughout March and April.
Out and about and ready to make people laugh is the brilliant Joe Lycett. His show is called 'I'm About to Lose Control and I Think Joe Lycett" and we're sure we will!
Check out Backstage's London audition listings!